The Lost Art of Quality Horror Movie Posters
Perhaps I'm just being nostalgic here, but I think the quality of horror movie posters have been going downhill for many years now. Actually, the same could be said about almost all movie posters, but since it's Halloween season, I'm focusing on the horror posters at the moment. If there's anything I blame for the decline of modern horror posters, it's gotta be Photoshop. See, back in the day, many of the posters were hand-painted masterpieces that made you want to see the movie that much more. These days, however, you can often recognize typical Photoshop filters being used in most posters. A lens flare here, a motion blur there... and don't even get me started on those annoying "collage" posters where you have a group of 5 teenagers looking right into your eyes with very serious looks on their faces while a larger photo of their stalker is in the background. It's kind of disheartening seeing that shit all the time. Of course, I am making a broad generalization here about modern horror posters, and there are always exceptions to the rule.
I guess the main difference about old horror posters is that it seemed like people had more fun making them back then. It wasn't just about marketing the movie in the most cost-effective manner, it was about creating a tribute to the movie that the fans would want to hang on their walls years after it was released. I don't know about you guys, but I'd be willing to bet that there are more people with the original "Halloween" poster hanging on their walls as opposed to "Scream".
So today I'd like to hear what some of your all-time favorite horror movie posters are - old or new. I might eventually put together a big list of the best horror movie posters sometime... not making any promises though since I already have more than enough material to cover for this Halloween season and probably the '08 season too! But yeah, share with us some of your favorite horror movie posters. Feel free to post links to said posters so we can check 'em out.
I'll get things started by sharing one of my all-time favorite classic horror posters: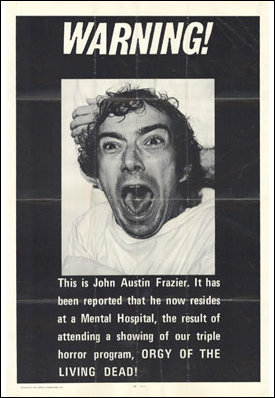 On an unrelated note, is anybody else as excited as I am about season two of Dexter starting up soon? I swear, it's the best show I've seen in years.
48 comments
Leave a Reply
Previous post: Halloween Candy Prototypes That Never Saw The Light Of Day!
Next post: Halloween Infiltrates Christmas For A Change!