In Which I Share The Fruits of My Labor.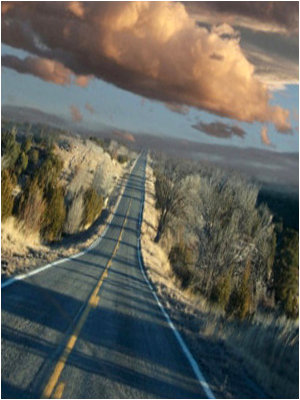 Over the past few months some of you have asked, and I'm not making this up, when I was going to write a book. In fact I am working on one now and have a snippet of it for you to preview here. Writing the book is the part I know how to do. Finding an agent and or publisher is another matter entirely and one which I have met with something less than success so far, but never mind, that hasn't kept me from writing yet. Here's all you need to know to understand the chunk I'm throwing out here like spoiled meat to hogs (no offense). The subject of the novel is a family vacation. The Narrator is Jimbo, the youngest of the Gallagher clan. Alex, the oldest has suddenly departed the trip with his fiancé, the front desk girl at the hotel where they stayed last night. Others on the trip include Mr. and Mrs. Gallagher, their daughter Mallory and Gramaw Ginny. Frodo is their dog.
ROAD SKIING
If I was ever called to testify in a court of law which of us it was first hit upon the concept of road skiing, I would have to say I did not recall, so organically did the idea grow out of the conversation we were having inside Matilda to keep from thinking about the loss of Our Alex. The sport of road skiing, which I am pretty sure was invented for the first time that day by us Gallaghers, is not all that different from water skiing except in that the surface upon which one skis is a road instead of water and in place of a motor boat you have a car. So there's Gramaw Ginny racketing along behind us, clutching the tow rope for dear life and hellfire, sparks flying out from under her skis, hollering like a Texan on a wild bull, me half out one window cheering her on, Mallory out the other window doing likewise except for a deal more cussing, Our Father gripping Matilda's wheel fit to crush it, stomping the accelerator halfway through the floor, shouting something at the top of his lungs about Iphigeneia in Tauris, Our Mother finally getting in the spirit of this vacation, really letting her hair down for once just screaming with laughter, kicking her naked feet so the fuzzy dice spun up round the rear view mirror like a tetherball and by God, here come the cops.
So the Old Man gets as far out his window as he can go while still holding on to the wheel, cranes his head half backwards on his neck like an owl at the pursuant Fuzz, his eyes in no way any longer attuned to the road and traffic ahead of us which we are now approaching if anything even faster than we had been due to the spastic extension of his entire bodyweight pressing down upon the gas pedal, he begins lecturing the Stateies chasing us on the subject of Armageddon and it's salubrious effects upon the rigidity of laws and strictures governing such thing as vehicular speed. And I'm yelling at him that no matter how charming and persuasive his argument might be, it is physically impossible for the Coppers to hear him under the current circumstances, but he himself can't hear me over the wind and the sirens and his own shouting, though I'm a hell of a lot closer to him than the enraged bacon now climbing up Gramaw Ginny's ass, and his situational deafness would illustrate my whole point pretty nicely if he could only hear me which of course he can't! The passenger cop squeezes halfway out his window fixing to shoot our tires out which at this speed on an Interstate desperately in need of infrastructural attention is near on impossible, not to mention the obstacle presented by the skeletal octogenarian slaloming wildly back and forth between him and his target, trailing medical tubing and old lady undergarments, the cobwebby remnants of her frantic, wirey white hair peeling straight back from her speckled scalp, dentures banging around in the wide open maw of a toothless old mouth stretched wide open by at least three gees combined with complete unleashed geriatric glee, it was a sight entirely magnificent and then we went off road. Careening down the median, jouncing up and down, Frodo howling canine curses, huge divots of turf and dust spraying every which way, Matilda finally protesting, throwing her hood up in outrage, shooting steam out her radiator like a cartoon bull, banging down once and twice and in the end at last stopping, the cops going sideways, tearing the hell out of some Sunday Schools municipal roadside beautification project, and all of us tumbling out of our cars, Gallaghers and police alike, laughing our heads off at the crazy ass impossible fun of it all.
34 comments
Leave a Reply
Previous post: Reese's Pieces Going Bananas?
Next post: The Midnight Ridazz Of Los Angeles. Plus, The Dark Knight & San Diego Comic-Con.