Where Am I Doing All Of My Christmas Shopping? At Crazy Gideon's!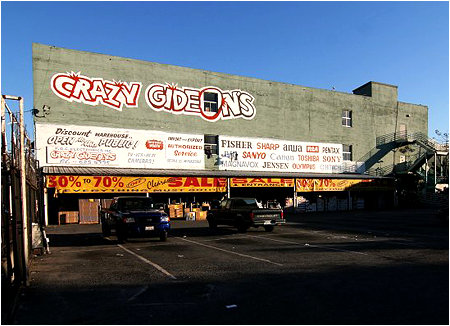 Since I no longer live on the East Coast and Crazy Eddie is sadly a thing of the past, I've had this burning desire to find an electronics retailer with the level of insanity that I have come to expect. Fortunately, Los Angeles does not disappoint, because I've been seeing one particularly unstable individual on my TV lately who's part salesman and part madman. His name? Crazy Gideon. I imagine his electronic shop consists of nothing but battered television sets that he's destroyed during his uncontrollable daily rage-fits, and I'm dying to pay the place a visit. But this probably means very little to those of you who are unfamiliar with Crazy Gideon's, so I've put together this collection of his commercials so you can see exactly why he's making watching local television channels this holiday season far more enjoyable than usual:
IF YOU DON'T BUY FROM CRAZY GIDEON'S, YOU HAVE A PROBLEM WITH YOUR HEAD! HURRY BEFORE I CHANGE MY MIIIIIIIIIIIIIIIIIIIIIIND!!!!!
51 comments
Leave a Reply
Previous post: Hallmark's Pac-Man Christmas Ornament Has Arrived!
Next post: Neon Spray Painted Christmas Trees?