The Greatest Gift Of All: No More Head Cold! Thank You Santa.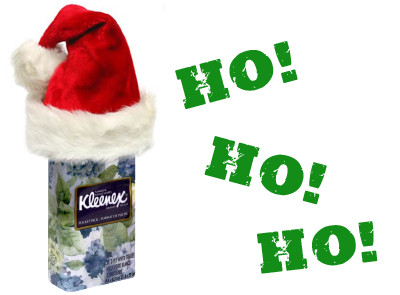 For the past week and a half, I've had one of those ultra-annoying head colds that can render a person completely useless because you're far too preoccupied with draining gallons of snot from your skull every five minutes to get any real work done. Fortunately, it's Christmas Eve and the I have finally defeated that bastard head cold with an onslaught of orange juice, soup and honey-lemon Cold Eeze drops. I was starting to worry I wouldn't get to finish my big He-Man & She-Ra: A Christmas Special article on time, but I managed to wrap it up in the last 24 hours so I hope you guys enjoy it. While Halloween will forever be my favorite holiday, I really like Christmas a lot with its inherent cheesiness and I wish I could've enjoyed it more this month. But hey, it's never too late to start.
Now that I'm healthy again, Re and I are going to the grocery store today and we're going to attempt to make some of her favorite Ukrainian family recipes: Cheese Rolls (blintzes) and Pierogies. It's like I'm trading a cold for a buttery heart attack. If that food doesn't finish me off, I have a ton of Christmas cookies and candies to surely get the job done.
I'm also happy to report that I finished all of my Christmas shopping on time as well. I swear, I feel like I'm single-handedly keeping Amazon.com in business this year. That's not to say I haven't braved the real world retail shops. Despite all the ridiculous people traffic, I always venture out to the stores at least a few times come December each year. There's just a certain charm about seeing all the holiday decorations and every "As-Seen-On-TV" product known to man resurface around this time of year that makes it all worth it. I know it probably sounds absurd, but Christmas time is one of the few times of the year that can even make a trip to CVS sound like an exciting adventure.
Anywho, whatever you're doing this Christmas, I hope you all have a spiffy one and thanks again for spending some o' your holiday season with us once again. I'll be back in the next day or two so we can all discuss how we made out with Christmas gifts and strategies for getting rid of those nasty fruitcakes among other things. Now if you'll excuse me, I've just popped in Billy Idol's "Happy Holidays" album and there's a box full o' limited edition Peppermint Crunch Junior Mints with my name on it. Christmas is awesome.
Survey #1: Are there any special holiday meals in particular you plan on making or indulging in?
Survey #2: What holiday movies are you definitely gonna be watching during the next 24 hours?
20 comments
Leave a Reply
Previous post: A Healthy Dose Of Holiday Cheer.
Next post: Christmas Aftermath 2008.