In Which I Confess To Not Understanding The Internet.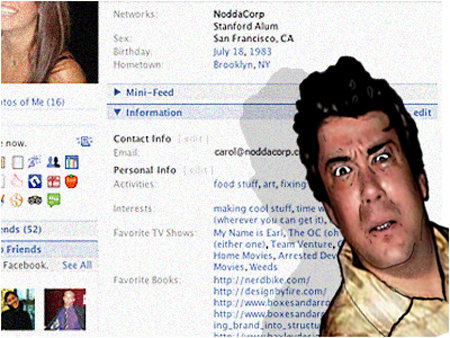 Gentle reader, when I first decided to create 'Myspace' and 'Facebook' pages, I was mostly screwing around. I thought 'social networking' sites were entirely populated by gum snapping teenage girls, desperate rock bands pathetically clinging to the belief that they will one day 'make it' while knowing in the pits of their stomachs that they will not, and sexual deviants aroused by pretending to be teenage girls, desperate rock bands pathetically clinging to the belief that they will one day 'make it' while knowing in the pits of their stomachs that they will not, or both.
In the case of 'Myspace', it turns out I was quite correct, except in that I did not account for the large number of people trying to sell pornography while disguised as fun seeking young ladies with Myspace pages.
'Facebook', however, has proved to be quite surprising. It has unexpectedly connected to a whole host of old friends, schoolmates, fans of my writing, ex-girlfriends, ex-girlfriends who want to kill me, parole officers, former cellmates, bail bondsmen, ex-girlfriends who turn out to no longer be girls, the occasional Mexican dwarf I left to die after we collided with that coast guard boat (sorry, Raoul), and ex-girlfriends who turn out not to have been girls at the time I knew them.
It is also the source of a number of pervasive Memes I have not bothered to exploit for cheap laughs.
To put an end to that, I reprint a list which I have already posted on Facebook, an act I justify by the preceding paragraphs, which can only be found right here at I-Mockery.com. That makes this a 'variant' and thus more valuable to collectors. Take note, Raoul, as that's all you'll get from me...
MY FACEBOOK 'I HAVE JUST BEEN TAGGED'
LIST OF 25 RANDOM THINGS ABOUT ME:
1.) I have been asked to engage in this Facebook activity multiple times and have not because I have a knee jerk oppositional response to exactly this sort of thing.
2.) Once I have completed this list, I intend to publish it on the 'Blog' at I-Mockery.com, a delightful Internet site that pays me to write for them.
3.) #2 is pretty much the reason I'm doing this.
4.) One of the above statements is a lie.
5.) I just blew your mind.
6.) Right now you are thinking I didn't, but sometime soon you will stop dead in your tracks and say 'whoa.'
7.) You will probably not say it out loud. You might though. I don't really know you well enough to say.
8.) I shot a man in Reno, just to watch him die.
9.) I'm already dissatisfied regarding the degree to which this is turning out to be funny.
10.) While I am trying to do this, I'm chatting with three people on Facebook. That's how popular I am. Also I have not figured out how one makes oneself unavailable for chat.
11.) If you are one of the three people I was chatting with, I meant the other two. I really wanted to chat with you. Seriously.
12.) Do you feel like you know me better yet? Because that's what I most wanted out of this. I mean, otherwise, this is pretty masturbatory, right?
13.) If I was going to do more than one draft of this, I'd think of some other way to say it was masturbatory.
14.) This is the seventh draft of this list.
15.) I'm still not all that pleased with how this list is turning out, and I'm already more than halfway done.
16.) Seven God Damn drafts and the only number I like at all is the Johnny Cash reference.
17.) When I was in school, I laughed any time a teacher said 'ball', 'breast', 'titmouse' 'The Grand Tetons' or 'Lake Titicaca'.
18.) My Bologna has a first name.
19.) I have just become certain you did not 'get' the Johnny Cash reference, because there was nothing really to 'get' per se, and quite likely you didn't even know it was Johnny Cash.
20.) In this list, I have used the word 'masturbatory' three times.
21.) The school referred to in #17 was college.
22.) It was from 'Folsom Prison Blues', all right? Folsom Prison Blues! Only the most famous song The Man in Black ever wrote!
23.) You claim to have gotten the reference, but it's only because you saw some Goddamn Joaquin Phoenix vehicle, which in now way counts and makes me loathe you!
24.) What the hell kind of a name is Joaquin Phoenix? Did his parents hate all babies, or just him? Do you know what he's doing now? A RAP ALBUM, YES, YES, A HE IS A WHITE RAPPER NOW and just go Google image him right now and you'll see he is sporting a hideous unkempt hippie doofus beard that appears to have something NESTING IN IT!
25.) Because at least one of the five of you who will read this entire list does not know who Joaquin Phoenix is or what he has to do with Johnny Cash, I am filled with self-loathing.
26.) And despair. Yes, that's right. I did 26. Because no one can tell me what to do.
27.) I am so lonely.
34 comments
Leave a Reply
Previous post: Olvera Street Rules.
Next post: Friday The 13th Parts 1-3 DVD Re-Releases.