The New Cobra Commander?
I'm sure you've all heard about the "G.I. Joe: The Rise of Cobra" movie that's due out later this year. Well, feast your eyes on the above photo because that is apparently the new face of Cobra Commander. Somebody sent me a link to an eBay auction where it was selling for way too much and I couldn't believe this was the new face of Cobra. When I first heard about them doing a G.I. Joe movie, I obviously had my doubts, but then images of some of my favorite characters started popping up online and I was surprised that they looked pretty good. Take Snake Eyes and Storm Shadow for example.... both of them actually looked fairly similar to the original characters I was obsessed with as a kid. Even Destro has a metal head in the upcoming film, and while I doubt his lips will magically move like they did in the cartoon, he at least looks decent. So what the hell happened with Cobra Commander? Why did they feel the need to fuck with his classic depictions when the creators of the new movie seemed so intent on keeping all the other characters so close to the originals?
Look, there are only two truly iconic ways to show Cobra Commander: 1) Wearing his hood. 2) Wearing his mirror-faced battle helmet. But that's not what we're getting apparently. Instead, we're getting a guy who looks like a veteran frequenter of your average s&m club. WHYYYYYYY!?
Honestly, I would've even preferred the 1987 version of Cobra Commander over this new guy...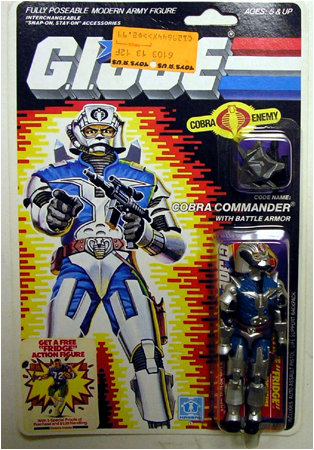 Seriously. I'd take him and his wacky metal spacesuit from looneyland over the new gimp-like Cobra Commander hooked up to a breathing apparatus (?) in a heartbeat. Hell, I'd even take that mail-away "Fridge" character over this new guy in the movie. And you know what? I bet the old Cobra Commander would agree with me too...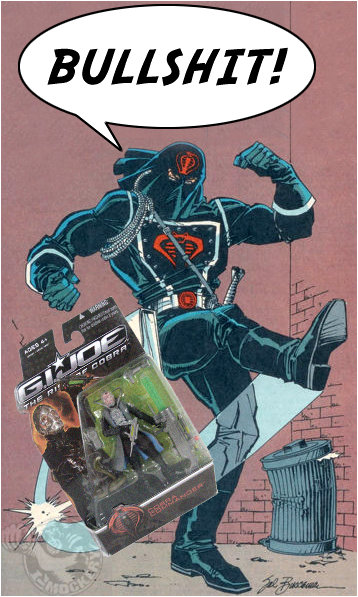 85 comments
Leave a Reply
Previous post: In Which I Let It Burn Because I Like It Burned.
Next post: I-Mockery At The 2009 San Diego Comic-Con!