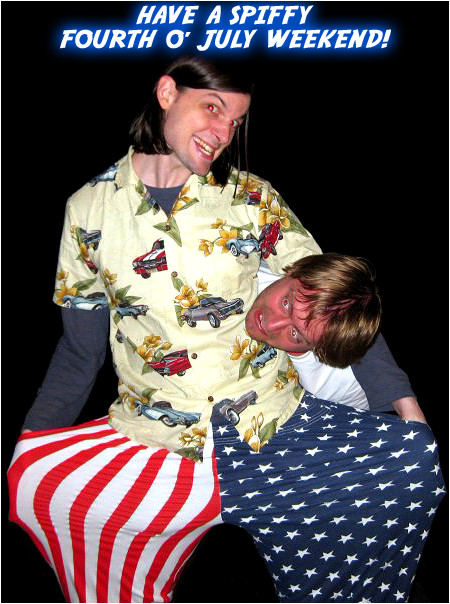 Alright people, you know the drill. Share your plans for the holiday weekend in this blog thread. Non-US citizens, share your plans anyway because you deserve to set off explosives just like the rest of us. And speaking of fireworks, here's an updated article from the past that might help get you in the mood for blowing things up:

The Underappreciated Art of Firecracker Labels!
http://www.i-mockery.com/minimocks/firecracker-labels/
I've just added an all-new third page of firecracker labels to the piece, so be sure to check it out and submit any labels of your own that you happen to photograph before they get blown to bits!

Hey guys, I'm just dropping in to give you all a quick reminder that the eighth episode of Doc Mock's Movie Mausoleum airs LIVE tonight (7/3/09) at 10pm PST / 1am EST, so be sure to catch it! You can watch the show and join in the chat room fun and either of the following two URLs:
http://www.justin.tv/thestreamdottv
http://www.stickam.com/thestreamdottv
The network goes on a one-week break after tonight, so don't miss this one! Hope to see ya there!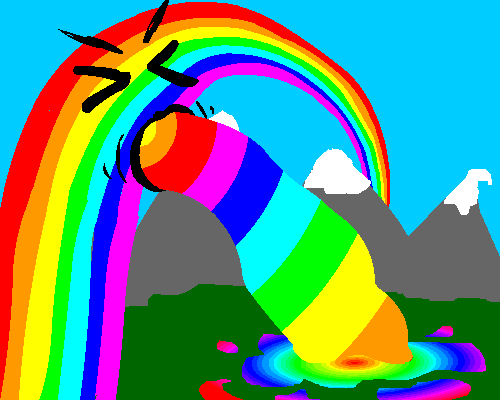 I'm sure many of you recall this little project I started a few years ago called RainbowPuke. The idea was simple: I wanted to create a site where people were free to submit their own artistic visions of rainbows puking up rainbows. To my surprise, the idea caught on quickly and I was receiving so many RainbowPuke art submissions each week, I simply couldn't keep up with all of them. An art professor at Virginia Commonwealth University even had his entire class do a project based on the Rainbow Puke site (you can check out their amazing puke projects here).
This "happy place for sad rainbows" had grown out of control. Well, I had other things (including I-Mockery) going on at the time, so I simply couldn't dedicate the resources to RainbowPuke that was required since the whole site was done in basic HTML. Had I known it was going to blow up and receive so many submissions, I would've planned it out better, but it was really just a joke that I figured a few people would participate in. I suppose I underestimated the lure of rainbows puking in technicolor.
So, I promised myself I would one day set aside the time to completely rework the site in a way that I could update it anytime I wanted with new individual art submissions rather than wait to update it with huge batches of pictures (which was always a time-consuming ordeal). Well, that day finally came this past week and I'm proud to announce the rebirth (or regurgitation, if you will) of RainbowPuke.com!
The site has been completely revamped with a simple interface and I've archived all seven original collections of the Rainbow Puke images. So from this point onward, you'll be able to enjoy all new RainbowPuke submissions on a regular basis. Plus, since it's set up as a blog, you can discuss each of the entries with your fellow Rainbow Puke pals. And for those of you who've sent them in over the past year, don't worry, I've saved 'em and they'll all be posted up on there soon! You can expect frequent updates to the site each week.
Don't forget, RainbowPuke is a project for EVERYBODY to participate in, not just professional artists. One look through all of the entries currently on the site and you'll see we have a wide variety of entries on there. So even if it means busting out a set of crayons and scanning in your own rendition of a puking rainbow, I hope all of you will submit at least one piece of Rainbow Puke art soon. You can email your submissions here.
Let the vomitous celebration commence once again!