Freddy Krueger And Jason Voorhees Now Live In A Van Down By The River.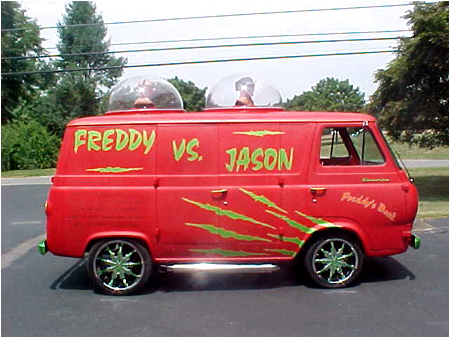 We've already seen some pretty impressive automotive tributes to our horror heroes in the past, such as the Nightmare on Elm Street Camaro, but this recent eBay listing for a customized 1965 Ford Econoline "Freddy vs. Jason" van really impressed me. We're talking about a true fan of both series who really went all out on making this van the ultimate tribute to A Nightmare on Elm Street and Friday the 13th. Granted, vans will always have a creepy stigma attached to them, so if you're going to be the person who drives one, you might as well drive one that proudly embraces the the world of horror. Let's take a look at some of the features of this madman machine on wheels.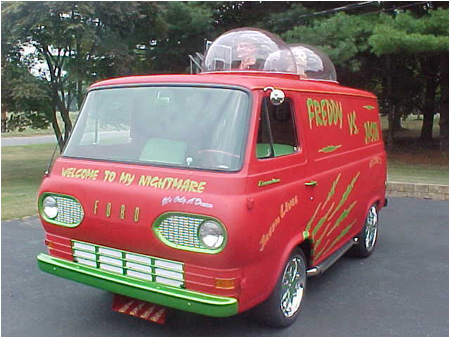 First off, each side of the van is dedicated to one of the psychopaths. Freddy Krueger's side has a scratch on it along with the classic "One, two, Freddy's coming for you..." playground rhyme from the films, while Jason Voorhees' side features a "Welcome to Camp Crystal Lake" sign. The entire van is obviously painted to match the killer theme, plus there are cutouts of Freddy and Jason looking out the rear door windows. My favorite part of the van, however, is definitely the roof: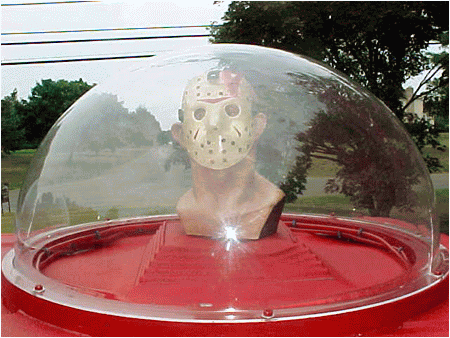 Easily the most eye catching feature of the entire van is the fact that it's equipped with not one, but two clear roof domes containing busts of Freddy and Jason. That alone is an amazing feature, but they're also motorized, so their heads actually do a full rotation four times per minute. I love that they're not even the greatest busts of both guys, they're kind of cheap looking sculpts which only makes it all the more endearing in my book.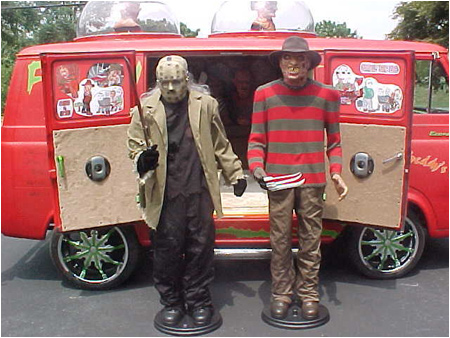 The owner spared no expenses on the inside of the van either. As you can see, he includes two 6 foot tall animatronic statues of Freddy and Jason (the same ones you may have seen for sale at the seasonal Halloween shops and K-Mart), and has also covered the side door windows with crayon artistic renditions of the two monsters, as if to suggest some kids have already been picked up in this van. You can always tell when a lot of love has gone into a project, and it's absolutely clear that this was the case with the Freddy vs. Jason van.
The van has plenty of other nice bells & whistles, new auto meter gauges, custom upholstery, bobblehead figures, 3D sculpts of the characters busting through the wall, plus a DVD player and screens so you can watch all the Elm Street and Friday the 13th flicks in the comfort of your horror chariot. In total, the seller claimed to have invested over $30,000 in the van, but it never did sell on eBay. I guess that's not surprising since it is still just a van, but if I had the means, I would be the first in line to take this wicked wagon out for a spin come Halloween. I'd even equip it with one of those ice cream delivery truck jingles that play wherever you drive it to really seal the deal. Ah well... I can dream.
(Big thanks to Brad for showing me this amazing vehicular homage to two of my favorite slashers!)
17 comments
Leave a Reply
Previous post: This Halloween, You Can Eat The Green Lantern's Balls. Finally.
Next post: I Helped Rowdy Roddy Piper Fight Childhood Obesity!