Krispy Kreme Halloween Donuts!
In case you didn't know, Krispy Kreme Donuts is doing some special Halloween donuts to celebrate this spooky time of year, so I decided to go check them out. They offer three different Halloween donuts, which if you get in a dozen come in a large "Krispy Skremes" box decorated just for Halloween.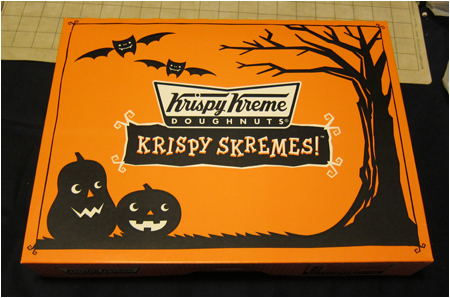 They have a pumpkin face donut, a spider web donut, and a donut with orange and black sprinkles. They also have a pumpkin spice donut which I also picked up, which isn't strictly part of the Halloween promotion, but it's a pumpkin donut, which means it's awesome so how could I not get that?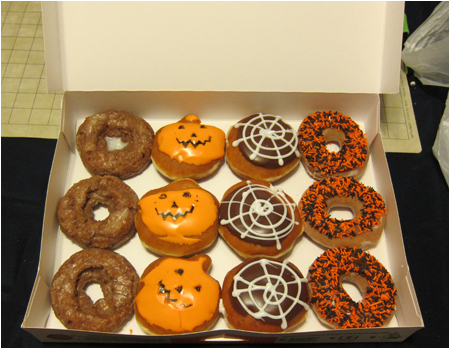 I wish I could tell you that these donuts had amazing Halloween flavors, that one tasted like corpses, or another oozed a red bloody filling (like Voodoo Doughnut) as you chomped its life away, but sadly these were pretty boring. The pumpkin face donut is just an icing on top of their standard glazed donut, and the orange and black sprinkles were just tossed on top of a plain donut. The spider web donut was filled with a super thick white goopy filling that didn't really taste particularly great, but at least that was something other than plain. Honestly the best donuts in this box were the pumpkin spice donuts that weren't even part of the promotion. But it's still pretty cool that Krispy Kreme is at least doing something different to celebrate the season.
If you happen to have a Krispy Kreme in your area you might as well check them out, but if you don't, you're not exactly missing anything spectacularly exciting. But "boring" or not, these are still donuts, and are thus totally worthy of being devoured.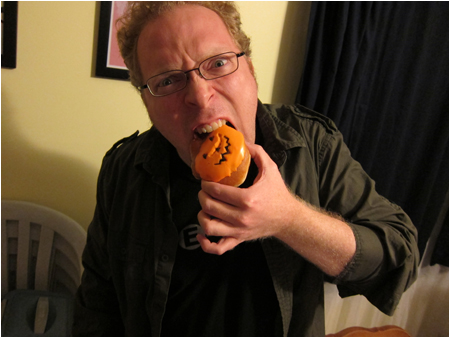 13 comments
Leave a Reply
Previous post: Boo Berry Is Back Again For Halloween!
Next post: My All-Too-Disappointing Journey To Hell.