Abobo's Big Adventure: The Official Trailer!

[Click here to watch in full resolution]
Crank your speakers up, batten down the hatches, and buckle your safety belts - the official trailer for our Abobo's Big Adventure game is finally here! I'm almost as excited about the release of this trailer as I am about the upcoming release of the game itself. This trailer gives me chills every time I watch it. CHILLS! It must be because it's like seeing the culmination of a project that we've worked on for years and years... and now the release of our big game is right around the corner. Make no mistake about it - this is the biggest project we've ever worked on and it's everything we dreamed of having in a single 8-bit NES-style game. I hope it really shows in this trailer.
Speaking of the trailer, I have to extend a huge thanks to my good friend Brad Webb. Without him, this extremely professional trailer would've never happened. We wanted to make this a trailer worthy of the Abobo name, and Brad absolutely delivered. Now I owe him an expensive dinner... I sure hope he likes In-N-Out Burger.
Watch it once. Watch it twice. Watch it a thousand times. Please help spread the word, because this is a free game made by the fans for the fans, and soon you'll all get to play through the entire thing. All hail Abobo!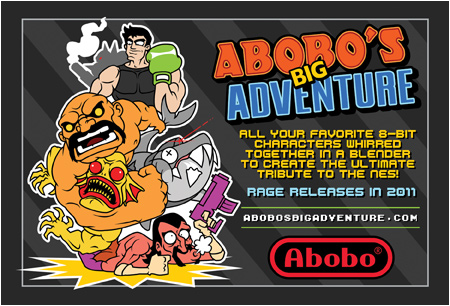 38 comments
Leave a Reply
Previous post: Halloween 2011: The Aftermath.
Next post: I-Mockery Game On The Simpsons!