I-Mockery's 2011 Secret Santa Event Sign-Ups Have Begun!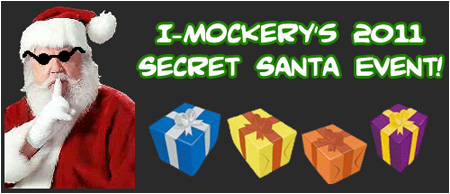 Hey guys, just a quick ho-ho-ho-head's up for ya today. Our annual Secret Santa event on the forums has just begun, so if you'd like to participate in some good old fashioned holiday gift giving (and receiving) with other I-Mockery members, be sure to sign up in the thread! The earlier you sign up, the better... especially if you're a relatively new user since there are some verification steps you'll have to go through. And yes, if you live outside of the U.S. you can still participate in the event, no problemo. Furthermore, if you participated last year, all you have to do is follow the simple sign-up procedure and you'll be in. As usual, I'd like to extend a big thanks to 10,000 Volt Ghost for helping keep the event organized this year.
The deadline for signing up is Thursday, November 24th, so hop to it!
2 comments
Leave a Reply
Previous post: I-Mockery Game On The Simpsons!
Next post: Oh I'm Thankful Alright…