The New & Improved Jack-O-Juke! I-Mockery's Halloween Music Jukebox!
Big news today, but before we get to it, allow me to refresh your memory about how our beloved Jack-O-Juke was brought to life:
Years ago, I went to the local cemetery during a full moon, dug a grave, and buried a jukebox in it. I would explain why I did this, but why creep you out with the gruesome details of my nocturnal October activities? So anyway, I returned to the cemetery last night, dug up that same jukebox, plugged it in, and discovered something truly horrifying...
It had become the Jack-O-Juke!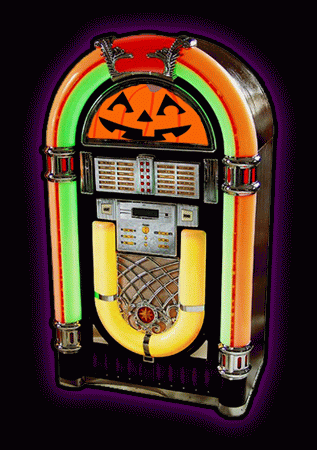 I'm incredibly excited to unveil the big news that we've completely revamped I-Mockery's Jack-O-Juke Halloween music jukebox for the 2017 season, and we went allllll out on it! Why is this such a big deal? For starters, the Jack-O-Juke has been rebuilt from scratch with all new parts, just like Frankenstein's Monster! The old one was done in Flash, and you may already know, is no longer supported on many platforms. This new one wasn't made in flash, and it will now work in your browser, on tablets, and even on your phones! Yes indeed, now you can take the Jack-O-Juke with you on the go!
In addition to being compatible with multiple platforms, the Jack-O-Juke has better features now. The random song shuffle function is finally working, it has full mouse wheel support for easy scrolling through songs, and we've added in two new "page advance" buttons that will let you quickly skip far ahead to songs later in the catalog just like on a real jukebox!
You'll also notice that the Jack-O-Juke has been completely redesigned. We finally have a new interface modeled after the one you see above, only the new one is even better. Upon loading it up, you'll see we've added an animated dot matrix style LED display to the top of the Jack-O-Juke. Yes, you read that correctly; now while you listen to your favorite terrifying tunes, you'll be treated to a show of random Halloweeny animations from within the Jack-O-Juke itself!
Like I said, we went all out on it this year. A huge thanks to Jacob for doing such a phenomenal job coding it, and to Re for designing the absolutely awesome new interface! Without their eerily energetic efforts, we wouldn't have such a killer Halloween jukebox to enjoy!
Lastly, I've also added in even more Halloween tunes to kick off this revamped jukebox. The Jack-O-Juke is a jukebox now filled with over 230 horrifying Halloween songs to keep your decaying ears bleeding with ghoulish glee all season long! Feel free to keep the Jack-O-Juke open in a separate window so you can listen to all of the hand-picked tunes while still checking out all the latest article offerings here on I-Mockery.
As always, if you would like to help me out with the bandwidth costs and show your support for our efforts, please consider purchasing a copy of Grave Chase when it comes out for PC, Mac, & Linux on September 20th this month (next Wednesday!). Every purchase helps cover those hefty hosting bills. Also, it's a really fun Halloween video game we made, so it's a win-win for everybody.
Have a song to suggest? If there's a Halloween tune that you feel is worthy of a permanent spot in the Jack-O-Juke, please post it here in this blog thread. This thread will be the NEW permanent home for all spooky song suggestions, so feel free to return with all the ideas you can come up with. I can't promise I'll add everything you suggest, but I'll certainly keep an open mind about any haunted Halloween anthems you can come up with.
Alright, I hope you're all as thrilled about this as I am. Now please help spread the word, go ahead and start listening to all the Halloween songs, and lemme know what you think of our new Jack-O-Juke!
27 comments
Leave a Reply
Previous post: I-Mockery + Cyanide & Happiness!
Next post: Grave Chase Has Arrived! Now Available On Steam For PC, Mac, & Linux!