New Contra game headed for the DS!
If there's one classic game out there that most people have played all the way through more times than any other, it's gotta be Contra. It's simply one of the greatest 2-player cooperative games ever made. Yes, we all remember entering in the infamous code (Up, Up, Down, Down, Left, Right, Left, Right, B, A, Start), and more importantly, stealing lives from our friends when we ran out. Hah, yeah "cooperative" gameplay my ass. For a game to have so much replay value, even 20 years later it's still just as fun as it was back in the day, is definitely rare.
Well, it turns out there's a new Contra 4 game coming out for the Nintendo DS and it appears to be a truly worthy sequel. Behold: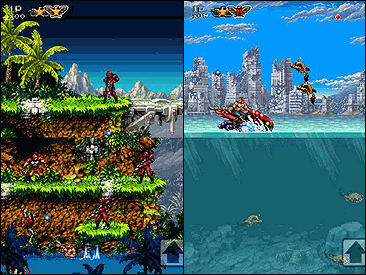 Tell me that doesn't look great. The new game has it all, including the spread gun that we all raced to grab before our partner reached it (complete with the original sound effects). It even has grappling hooks, and come on... who doesn't like to grapple things? Leggo my Eggo. Grapple my Apple.
Alright, now it's your turn. Share some of your favorite memories of Contra!
By the way, you can watch some footage of the new game after the cut.

Tell me that doesn't just bring a tear to your eye. This, my friends, is why I bought a Nintendo DS.
33 comments
Leave a Reply
Previous post: I-Mockery appearance on Coin-Op TV Live now online!
Next post: Three Transformers toys that will make your head explode