What the hell did they do to my Kit Kats!?
So I was in the grocery store today, still amazed at how many candies and novelties they already have on the shelves for Valentine's Day, when I stumbled upon something that simply should not exist. Cherry. Flavored. Kit Kats. Look, I'm all for having fun with the seasonal candies 'n stuff, and sometimes they'll release someone new that really does taste good. But cherry flavored white chocolate Kit Kats? No thanks. Actually, I was sure that these would pique your curiosity, perhaps even sound tasty to a few of you sickos... so I picked up a package for myself to prove to you just how bad these things are and hopefully prevent you from wasting your cash on 'em.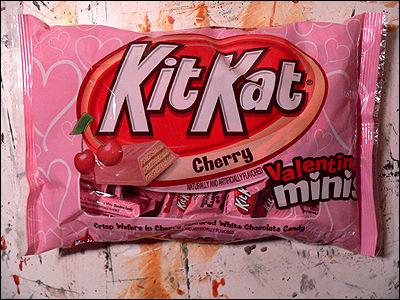 First off, you can't make the package for one the greatest candies on earth pink. I don't give a damn if it's Valentine's Day or not. Why not make it red? Red as the blood draining from an ex-lover who cheated on you. Yeah, now that's how you celebrate Valentine's Day in style! But pink? Come on. They're thin candy strips and now they come in a pink package? Some poor woman is gonna mistake these things for pregnancy tests now. And while I do condone pissing all over this new flavor, it'll hardly give you ladies accurate results if you're hoping to find out whether or not you have an alien growing in your belly.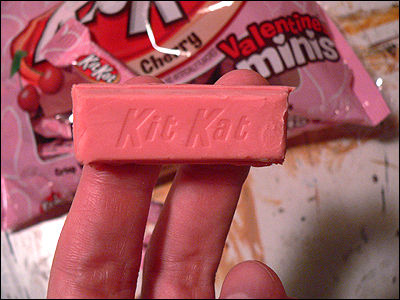 Upon opening the package, you're hit with a smell that you simply cannot deny: "Hey! That smells like cherry cough syrup!" Yeah, I like cherries as much as the next guy, but there's nothing worse than the fake cherry flavors that they tried to trick us into tasting when we were kids just so we'd take the medicine. And damnit, they've made the Kit Kats themselves pink too. Blasphemy I say, blasphemy! So I gave the thing a taste, and sure enough, it was awful. These aren't the fantastic mint Kit Kats that came out not too long ago, these are their evil cousins who are determined to go to war with your tastebuds. I'm going to save these things for next Halloween and give them to any kids that show up at my door without costumes asking for candy. That's how awful they are. Try them if you like, but I'm sure you'll be wishing you bought that package o' mint flavored Kit Kats instead.
And on one last semi-related note: Am I the only one who was extremely disturbed when he saw Valentine's Day goods in the stores the day after xmas? If they put those candies out any earlier, they'd be expired before Valentine's Day even arrived. Now there's a great present to give to the one you love - a trip to the hospital for some stomach-pumping action!
46 comments
Leave a Reply
Previous post: Mario Kart DS
Next post: Jones Soda Valentine's Day Packs!