And then God made the nipple… on a Cadbury Mini Egg.
Today I have an amazing story to share with all of you. It is the story of what I call "The Nipple Egg". I discovered it in a big bag of Cadbury Mini Eggs just the other day and you can learn all about it in the eBay auction that is now running for it: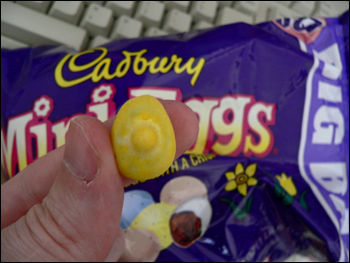 I-Mockery's "Cadbury Nipple Egg" auction on eBay!
Please bid on it if you are able to, as much (if not all) of the proceeds will be going to the St. Jude Children's Research Hospital charity! My pals over at Newgrounds have also agreed to match whatever amount I donate to St. Jude's up to $1000! Who ever thought a little candy nipple could potentially help so many children in need? Please spread the word about the Nipple Egg! Tell your friends, tell other web sites about it, call your local news station. Do your part and the Nipple Egg will live on in our hearts forever! http://cgi.ebay.com/ws/eBayISAPI.dll?ViewItem&item=5669122574
24 comments
Leave a Reply
Previous post: The Gingerdead Man
Next post: Thanks for nothing, eBay