Big Trouble in Little Tokyo
Ok, well there was no trouble at all really, I just like the subject line since Big Trouble in Little China is one of my all-time favorite movies and if you don't like it, you can get the hell off this web site right now. Then again, some would argue that I should've used Showdown in Little Tokyo for the title of this post instead. Now, while I agree that watching an action movie where Brandon Lee compliments Dolph Lundgren about the size of his penis is downright hilarious, it just doesn't hold a candle to BTILC.
So anyway, this past weekend we once again went exploring around Los Angeles. I'm sure you've already seen the new minimock feature about the Animatronics Exhibit we visited, if not, be sure to check it out. After we finished checking out all of the crazy animatronics, we decided to head on over to Little Tokyo - also known as Japantown, J-Town, and perhaps even J-Lo.
At the Little Tokyo Shopping Center (formerly the Mitsuwa Plaza), they were having an Anime festival. Though, I'm not sure if you can call something a festival when maybe 50 people showed up. Anyway, when we arrived, Mari Iijima was there playing piano and singing while her adoring fans sat and listened. Actually, it seemed like she was talking to her fans more than playing her songs because every time I walked by, I swear she was talking about love, people she's loved, people who loved her and... more love. Then again, isn't that pretty much what every song in anime movies are about? Eh, beats me, I'm not really into anime.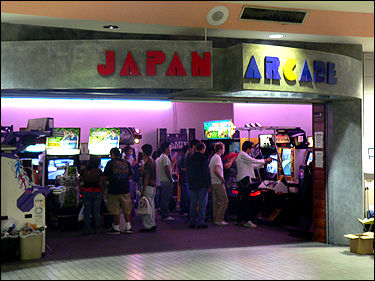 We walked around a bit and found Japan Arcade which was a lot of fun since all of the games were in Japanese and we had to just wing it. Re and I went head-to-head in a game of Typing of the Dead which was a blast, because not only is it fun to type fast and kill zombies as a result, but all the words you have to type are in Japanese so that increases the difficulty tenfold. We then played Puzzle Bobble for a while and had some real good matches. There was also some game that had photos of Japanese girls in their underwear 'n shit. I have no clue what the hell that game was about. Anyway, when it was all said 'n done, I kicked Re's ass in the video games and somewhat redeemed myself after she destroyed me at that arcade on our Road Trip.
Aside from the arcade, the one other really cool thing about the Little Tokyo Shopping Center is that there's a grocery store on the bottom floor - Mitsuwa Marketplace. It's apparently the largest Japanese supermarket in the United States. If that's true, it's sad, because it seemed like an average size grocery store to me. Either way, it was a blast walking around in there and looking at all of the crazy Japanese foods and drinks. Aside from all the fish and tofu, the packaging on Japanese snacks is probably some of the most colorful stuff you'll ever see. I took a bunch o' photos of these packages and I'll be putting up a new Shorts piece to showcase them a little later this week. In all seriousness, it looks like a rainbow threw-up all over their snack section and forever stained the packages with a million bright colors.
Hmm, a rainbow throwing up a rainbow of colors. I don't know why, but I like that idea. Tell ya what. To any of you who draw me picture of a rainbow throwing up a rainbow of colors: I will post your pictures here in the blog. Do we have a deal? Alright then, get to work on those nauseated rainbows and email your pics to me!
On a final note, I'd like to congratulate my buddies over at Cracked on the premiere issue of their new magazine finally coming out. So go out and buy it. Buy three or four. I'm working on an article for one of the upcoming issues (hopefully issue #3) so I'll keep ya posted on that.
17 comments
Leave a Reply
Previous post: MyHeritage?
Next post: Let the ground run red with the blood of Boy Scouts!