Slimer stops by to say "Hello!" - plus some Cannibal Meat Market body parts!
One of the cool things about running this site over the years is that I sometimes get emails from people who were involved in the making of the movies, games, products and other things that I have featured on I-Mockery. The other day I received an email from Robin Navlyt - the actress who was inside the costume of Slimer from Ghostbusters 2! She saw the "10 Things I Liked About Ghostbusters 2" piece and was really happy to see herself wiggling around in the Slimer costume. What's more, she hooked me up with some photos of herself getting into costume and I thought you would all like to see 'em!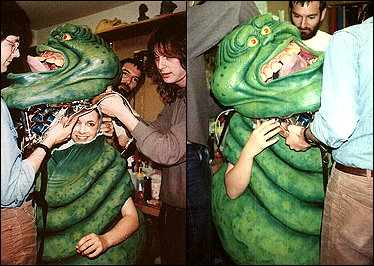 Can you imagine how much fun that role would be? "Yes, we'd like to cast you for the part of Slimer. You get to wiggle around in the Slimy ghost costume... and eat lots of hot dogs." Ok, so Slimer didn't eat any hot dogs in the Ghostbusters sequel like he did in the original movie, but I bet you somewhere, there's some lost footage of our favorite green ghost doing just that in part 2.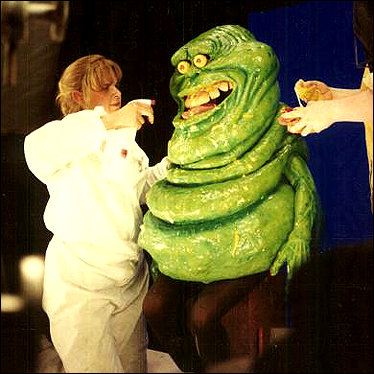 And here she is getting slime-ified while in the Slimer suit. It's pretty weird seeing Slimer with legs isn't it? Well anyway, I just wanted to say thanks to Robin for stopping by to say hi and for sharing the pics. Keep on Slimin'!
In other news, I got some interesting guts in the mail from Fright Catalog today. Normally I wouldn't think much about sticky eyeballs, ears and fingers since they're fairly commonplace novelty items come Halloween each year. However, these ones were part of the "Cannibal Meat Market" line - and thus they come packaged as if they were picked up from your local grocery store butcher. Check out a close-up of it here.
I like how they actually go the extra mile and include all the nutritional information. Who knew that eyeballs, ears and fingers were only 50 calories. Anybody looking for the a new diet fad? I think I've found your solution right here. They also make a nice recommendation: "*Best served with a glass of chilled blood." In all honesty though, these little sticky body parts don't hold a candle to the other ones they sell such as the Cannibal Meat Market brain and the foot. Take a look: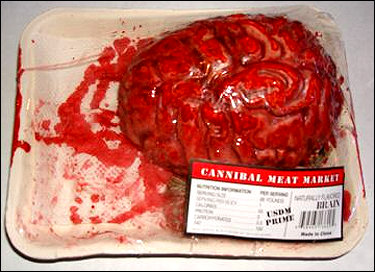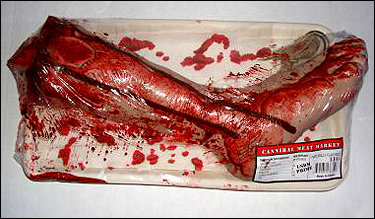 How's that for some nice Halloween decorations? It's funny; as tempted as I am to take this stuff out of the package and gnaw on 'em for a little while, that would basically defeat the purpose of it. The whole allure of these items is in how they are packaged, so I guess they're unique in the sense that you wouldn't really ever want to open them. You can check out the other ones that they're selling - including a hand, a heart and even a peeled off face - at this link. FrightCatalog has always been real cool to us over the years, so I never mind dropping a little plug for them too. That being said, if you want to buy anything from their site, be sure to enter in code "IMOCK5" during your check out and you'll get an extra 5% off the order price.
By the way, I strongly suggest you read through our latest horror movie moment about "Wishmaster" because there's the start of something in it you'll want to keep an eye out for in our articles throughout October!
On a final note, thanks for all the support you guys gave us in September. I can't believe we've already done a full month of Halloween content and still have another month's worth to go. It's been an absolute blast so far, and you can expect to see much more spooky stuff throughout October - including some really big pieces! And by "pieces" I clearly mean articles, not body parts. OR DO I? Ooooooooooooooooooooooooooo!
Random survey: What are you dressing up as this Halloween? Share the details in this thread!
46 comments
Leave a Reply
Previous post: Halloween-themed snack "surprizes" going online?
Next post: Just call me Betty Crocker…