My New Aquatic Pets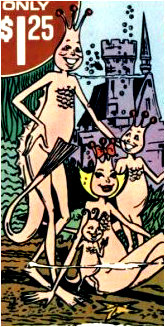 Before I went to college, I used to have pets all the time. Cats, fish, reptiles, bugs... you name it. While all the other kids were dreaming of becoming astronauts and baseball stars, I was 100% certain that I wanted to become an entomologist. One of my hobbies was catching black widow spiders in jars and then showing them to my friends, impressing them with my vast knowledge of arachnids. "See this one here? See the red hourglass symbol on it? That means it can kill ya!" Yes indeed, I was well on my way to a rewarding career in entomology.
Then I got my first computer and all of a sudden my interests in living creatures was replaced by a box that made bleeps and bloops. That's right, I turned my back on my animal brethren for a computer with dual 5¼ inch floppy disk drives and a CGA monitor. I was no longer tending to my kuhli loaches, I was tending to ASCII artwork and running a big dial-up computer bbs with WWIV software. I was no longer overturning logs in the woods to see what kind of deadly creatures I could find, I was reading old issues of "2600" to see just how much I could become like Matthew Broderick in "War Games". Computers were just really exciting to me and I soaked up everything about 'em like a sponge. But what about pets?
Cats have always been my favorite kind of pet, and I've had a few in the past, but I don't have any now and I often wonder why. It's certainly not because I don't want one... every time I see somebody who has one I'm extremely envious. I think it's more a question of, "Do I really have the time to dedicate to one of those things?" Granted, they're not like dogs which require you to take them outside just so they can take a dump at 11pm and then have you remove it from the sidewalk in a plastic baggie - an experience that I'm sure is very rewarding to dog owners. Cats definitely are loners who can take care of themselves and that's something I've always liked about 'em... they'll curl up on you and be your best friend, but they also don't need you to pamper the hell out of 'em. Problem is, I don't live in the suburbs in a nice house like I did when I lived with my family back in the day. I live in a rental condo in West Hollywood and I wouldn't feel comfortable letting the cat out to go run around outside. I'd be too worried about it getting lost or hit by a car or invited into one of the many local gay bars for an appletini, never to be seen again. And I dunno, all the cats I had when I was a kid were free to roam outdoors, and I guess I have trouble seeing one being happy couped up indoors all the time... even though there's plenty of evidence out there to suggest otherwise.
Another thing is, in case you haven't noticed, I really like to travel a lot. I wouldn't want to bring a cat (or a dog) on any trip with me, so that would mean I'd need to have somebody watch my pet while I was out of town. Now I don't like to be a burden to anyone, but I also wouldn't trust any of the few people I know out here to have access to my place while I'm out of town. It's not that they're bad friends, it's that they're the kind of people who would probably "teabag" everything I own and then show me pictures of it after I return from my trip for a good chuckle or two. "Oh you brushed your teeth with that Rog? Well guess what your toothbrush was up to while you were out of town? Har har!" No thanks. So yeah, I'm not sure when I'm gonna get a cat... maybe if I ever move into a house, which I don't foresee happening anytime soon.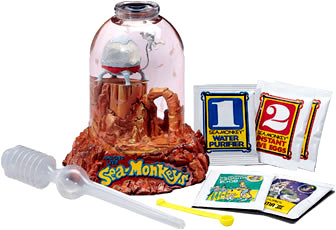 Fortunately, I have something else to keep me entertained now. I was given some Sea-Monkeys off of my Amazon Wish List this past holiday season by my internet chum, Kryten Syxx, who did a Splattrax with me last October for "The Blob". Believe it or not, up until this point, I never had Sea-Monkeys before and that's something I regret, because these things are friggin great - especially since this particular set comes in a Mars-themed mini-aquarium. It's like raising happy little sperm and watching them swim around the red planet with glee.
Now, I'm really anal about raising aquatic pets; I only use bottled water, I check the PH balance regularly and all that shit... and I've been equally scrupulous about raising these Sea-Monkeys. I've gone so far as to make a nerdy feeding schedule chart for them. Well, I'm proud to report that after a few weeks, my Sea-Monkeys are now thriving in their alien world. How do I know they're thriving? Because they're now large enough for me to photograph as they swim around the ancient Martian canals, that's how!
Pretty impressive eh? That's because I didn't just raise them with love, I raised them with ultra-scientific geekdom. I keep holding up their tank and proudly showing them to Re, "Look how big they're getting! See 'em swimming around the spaceship in there?" And all she responds with is, "Get those nasty looking things away from me." The Sea-Monkey enthusiast stands alone in this cold, cold world...
Fortunately, I have other things that I plan on ordering for my Sea-Monkeys. I had no idea there were such insane things you could buy for them. I mean look at some of this shit!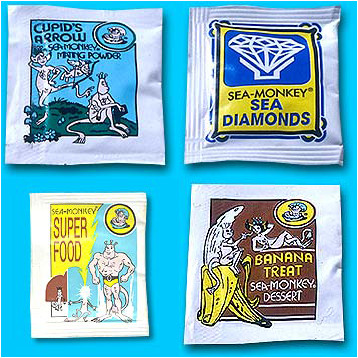 "Cupid's Arrow" Sea-Monkey mating powder? That's just a cutesy name for Sea-Monkey VIAGRA, my friends. A powder to make your Sea-Monkeys horny. I'm also quite positive that the "Super Food" is just a cutesy name for Sea-Monkey STEROIDS. And what about the diamonds? The Sea-Monkeys will apparently push these "sea-gems" around their lil' tank for some much needed exercise? Last but not least, the "Banana Treat" packet is described as a tasty dessert for your Sea-Monkeys. It really sounds delicious too doesn't it? Banana Treat. I simply must see some of this shit in action. Amazing.
So who here has raised Sea-Monkeys? How long did they last? Furthermore, what other kind of pets do you guys have and what's it been like raising 'em?
56 comments
Leave a Reply
Previous post: Damned New Years Resolutionists.
Next post: Hey, Comic Nerds.