I-Mockery's Online Store Is Finally Up!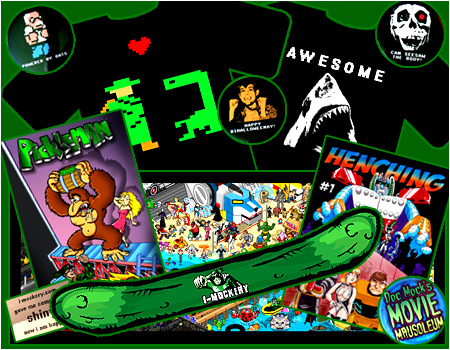 It's been a long time coming, but we've finally launched I-Mockery's Online Store! People are always asking me how they can help support the site, and usually all I tell them is to just tell their friends about it since we rely solely on word of mouth advertising. Well now there's a new way for you guys to help support the I-Mockery cause, and you'll get some spiffy merchandise for yourself in doing so!
I'm really excited about the launch of our store, or "The Mock Shop" as I refer to it, because we have some really cool stuff for you to pick up. Here's a list of what you'll currently find in there:
-I-Mockery T-Shirts! (including the all new "Forbidden Love" PickleMan shirt and the return of our "Awesome Shark" shirt!)

-Official I-Mockery Pickle Hats! (People have asked for these for YEARS, so I'm really happy to finally be able to offer them to you!)

-The Ultimate Pixel Poster! (We sold this at the 2009 San Diego Comic-Con and it was an instant hit with fans of pixel art and retro pop culture! You'll stare at this thing for hours!)

-Comic Books! (Now all of I-Mockery's original comic books are available online, including Protoclown's new "Henching" comic, PickleMan and more!)

-Button Packs! (A brand new set of 6 buttons, plus we throw in an extra PickleMan button with each order while supplies last!)

-Shiny Stickers! (Everybody's favorite I-Mockery sticker that doubles as a funhouse mirror is available once again!)
Also, since people have requested it in the past, we're happy to sign anything you order... just be sure to include a note with your purchase so we know. Last but not least, for all of you international customers outside of the U.S., we haven't forgotten about you. We've set up a special International Store Page that you can place your orders on with the adjusted shipping rates. So if you live outside the United States (yes, even you Canadians), please make sure you order from that particular page.
So there ya have it - a boatload o' new I-Mockery merchandise for you guys to spend your life savings on. Every purchase helps us keep I-Mockery running, and it will also lead to us putting up new products for sale on the site in the future, so thanks in advance to all of you who buy our stuff!
24 comments
Leave a Reply
Previous post: Anybody Here Attending BlizzCon? Also, It's Time For Halloween Suggestions!
Next post: I-Mockery On Facebook. In Your FACE.