Care for some more man size wads"?
Remember a while back when I did that article about Big League Chew? Of course you do, because you read that article every day as if it's some kind of holy scripture that gives meaning to your life. It just had that much of an impact on you. Well buckle-up buddy, because it looks as though I spoke too soon.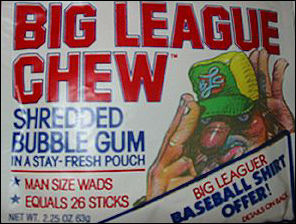 You see, when I wrote about this the old, unopened pack of Big League Chew from 1981 that I managed to procure, it had a promotional offer for a t-shirt on it that was covering up part of the awesome drawing. Still, the character's nose was in plain sight and I described it as "the most unintentionally phallic cartoon nose in the history of man." Now, however, I'm thinking it wasn't so unintentional after all.
I recently acquired an old Big League Chew promotional sticker from 1980. This sticker, has no offer on it; it simply shows the entire character and all I can say is WOW. Take a look: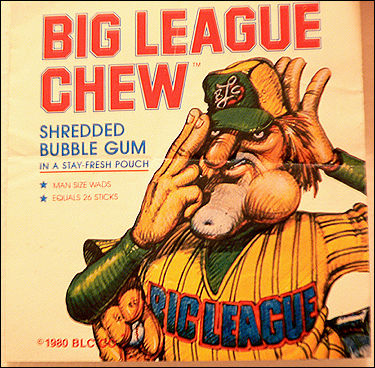 Tell me, what instantly catches your eye here, eh? There's nothing "unintentional" about this. What we have here is something purely blatant, and while I wish they still kept the badass package designs like this, I can understand why their marketing team decided to change how the characters looked. I mean come on...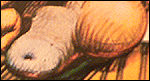 It just doesn't get any more audacious than that.
Well, now that I'm done talking about that, let's discuss something completely non-phallic: PickleMan! Hope you guys are enjoying the new "PickleMan and the Green Thumb of Triumph" game, we had a lot of fun making it over the past few weeks and there's more classic-style games like it on the way. Also, just to clear up any potential confusion, this game is not the same one that was being promoted in the teaser trailer from a while back. This one was just something fun we wanted to do on the side since the "big" PickleMan game keeps getting delayed. So whaddaya think of the new game so far? Did you manage to take down Mr. Bad? Did the bat sink its yellow fangs into you? Did Sister Nun Lady give you a whoopin' with her yard stick?
Oh yeah, I'm finally moving to downtown Burbank this Thursday. If all goes well, I'll be back online by Friday. Talk to you all then!
UPDATE:
Just so that everybody can stop sending me emails by the truckload, I'll go ahead and announce it now: Our mission to get Gymkata released on DVD by having tons of people vote on it during Amazon's DVD Decision 2006 was a success! Amazon is now accepting orders for Gymkata on DVD and it will ship January 2007! VICTORY! Behold the fruits of our labor: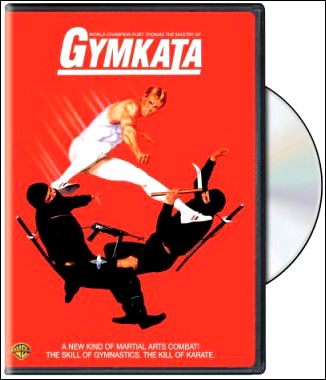 Be sure to pre-order your copy!
Read I-Mockery's big review of Gymkata kere!
23 comments
Leave a Reply
Previous post: Less Than Meets The Eye
Next post: A Stingray!?