Boo Berry is back!
update: a bit late notice, but someone just informed me that they're re-airing that episode with me on the Food Network's "Unwrapped" show tonight (9/19) at 7:30ET/6:30CT. It's a piece from a while ago and it's all about Berry Treats and I'm in the segment about Boo Berry later in the show.
If there's one thing we can always look forward to come Halloween each year, it's the fact that Boo Berry becomes much easier to find in stores. Normally, the only places I've been able to find the cereal during the rest of the year is at some "super" Wal-Marts and on eBay. Be careful if you do buy it on eBay though, because a lot of sellers won't even check to see if the boxes they're selling are expired.
Well, come Halloween a lot of stores sell Boo Berry (and the other monster cereals) including Target and Sam's Club. Behold the new Boo Berry box design!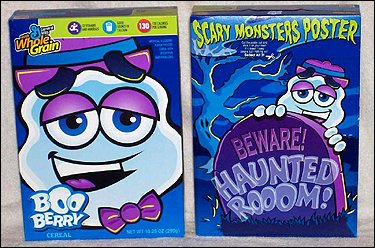 YES. Now this is something I'm really happy with. I've always been a fan of the original Boo Berry with the lazy/stoned looking eyes. Starting in the late 80's/early 90's they progressively made Boo Berry look happier and happier. He was the cereal mascot on Prozac. By the end of the 90's he looked happier than Casper the Friendly Ghost - not that this stopped me from buying the cereal, but he definitely didn't look as cool.
Well General Mills finally realized that most people who buy Boo Berry are the ones who grew up eating it back in the day, so their best bet was to keep the old design. It's great to see the classic Boo Berry back in action. I do wish they included some actual prizes with the cereal though. They're too much into the whole "the box itself is a prize!" bullshit. A couple years ago you could cut out the front of the box to make a mask. This year, you cut the back of the box off so you have a poster. Come on General Mills, what happened to the good old days of plastic cereal toys? Give us a Boo Berry pencil topper. Give us a Boo Berry ring. Give us a mail-away offer for a Boo Berry cereal bowl shaped like his head. Anything!
For those of you who are into the other monster cereals (*cough*traitors*cough*) or simply want to try one of each, there is a new "Monster Cereal Triple Pack" out this year that you can buy.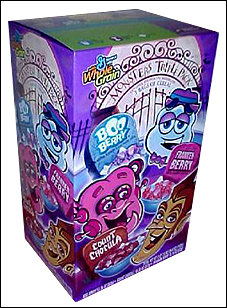 This one contains all the monsters; Boo Berry, Frankenberry and Count Chocula. Yeah, yeah, I know Fruit Brute and Fruity Yummy Mummy aren't there... but those cereals just aren't coming back. I had them when I was a kid and I always thought Fruity Pebbles were better... and that says a LOT since Fruit Brute and Fruity Yummy Mummy came with marshmallows. That's the kind of shit that usually gets a kid's vote, ya know? Anyway, I think Target might be getting the triple packs, but if not, Sam's Club usually carries them.
On one last Boo Berry note, while the cereal boxes aren't coming with cool prizes these days, there is a new Boo Berry item on the market! Remember how I was pissed off at the San Diego Comic-Con when they had the new Count Chocula and Frankenberry Bobble Cars, but no Boo Berry ones? Well, I'm happy to report that the Boo Berry Bobble-Cars have finally arrived!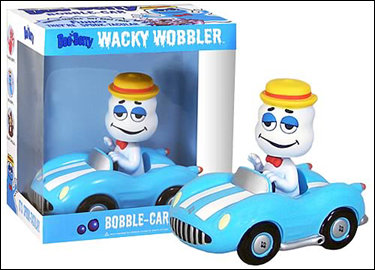 Tell me that doesn't look great? Now I can act out scenes where Chocula and Frankenberry are jaywalking and Boo Berry mows 'em down with his spooky sports car. Yes, life is good.
Alrighty, that's all the Boo Berry updates for now. Hope you guys have been enjoying all the Halloween madness so far. 2 weeks down and we're already off to a great start. And I've got a BIG piece coming up early this week that you guys will not want to miss. I'm really excited about it, mainly because when you work really hard on a big article, it's always a blast to finally unveil it to everybody. Keep an eye out for it... it might even go up late, late tomorrow night!
I now leave you with this example of just one of the prizes that came with Monster Cereals back in the day so you can see how they're screwing us in modern times:

Real Monster Disguise Stickers? BADASS.
54 comments
Leave a Reply
Previous post: AGTYASASDGAGEEHAK! (that's the sound of my mind being blown away)
Next post: The Ultimate Guide to the Hallloween Candies of 2006!