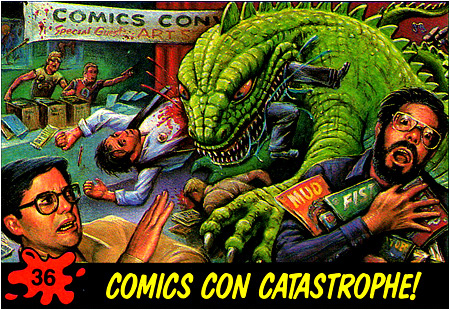 You too could experience the thrill of being mauled at Comic-Con!
Between working on multiple projects, and getting ready for our annual "Two Months of Halloween", and now prepping for the 2017 San Diego Comic-Con, I've been insanely busy as of late. This will actually be I-Mockery's ninth time as an exhibitor, and I couldn't be more excited about what we have to showcase this year - not to mention seeing all the familiar faces (and new ones) who stop by our booth. Be sure to pay us a visit if you're coming to Comic-Con as we'll be at (Booth #E10 - near Aisles 600 & 700 on the West side of the convention center - here's a handy map).
So what can you expect to see when you come by the booth? How about a graveyard!
We're turning the I-Mockery booth into a small graveyard this year! You'll be able to walk right up to our humble cemetery and be one of the first people to ever play Grave Chase months before it hits Steam on September 20th! It's been a while since I've made a game with a Halloween theme, so getting to put out our first Steam game this fall has me absolutely thrilled. We'll also have some special souvenir Grave Chase cards and stickers for anybody who comes by the booth to try out the game.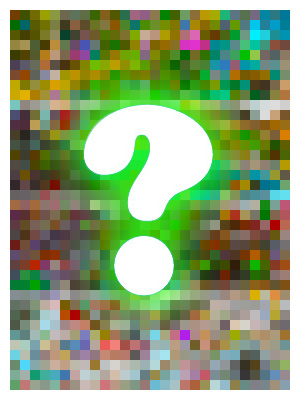 The other big news is that we've heard your cries, and we'll be unveiling our brand new "Four Seasons of Pixels Collection" pixel poster! A lot of people have asked Pox and I to put all four of our classic pixel posters onto a single print, especially since the originals weren't standard frame size and were only available for a short time. We've combined all four of them into a standard 18x24 print that none of you will have any trouble finding a frame for. Now you can finally have all Four Seasons of pixels framed in one place. (more...)

It's been many a moon since I last appeared on Screen Junkies' "Movie Fights", so I'm happy to report that they brought me back on once again. We discussed the trouble with the upcoming Han Solo flick, which movie franchises should involve time travel, the best Daniel Day-Lewis film, and much more. You can watch the full episode here:

[click here for high quality video]
Hope you enjoy the episode! I had a great time getting back into the debates. Now I just need to shave off this beard that I grew during my eight months off!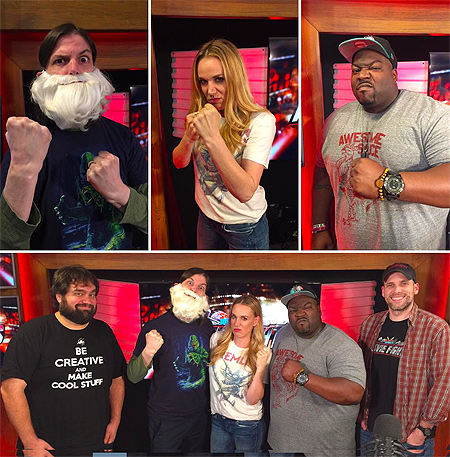 Also, in case you missed it, we just posted our full breakdown of E3 2017, so check it out to see what we thought of the games we were actually able to get our hands on. You can also watch my latest Yelling at E3 2017 video for some more highlights. Alright, that's all for now, chums!

We attended E3 2017 (the Electronic Entertainment Expo) this week, and despite the huge crowds this year, I still couldn't contain my enthusiasm about about all the video games, costumes, booths, and promotions on display as I walked around the convention center. In fact, I was so incredibly excited at E3, I actually ended up yelling at nearly everything I looked at. Thankfully, John was on-hand to film the entire thing once again:

[click here for high quality video]
As always, we'll also have a our in-depth E3 article coming up next week, including reviews of the latest games and photos of all the sights and surprises. In the meantime, hope you enjoy the video and be sure to drop a comment and/or subscribe to my YouTube channel if you haven't already. I put a lot of work into these, so it's always nice to hear whatcha think! Thanks for watching!

Just wanted to give all of you a quick update on Grave Chase. We now have everything working for the game on Steam, including over 50 achievement medals, unlockable trading cards, badges, and wallpapers. Still deciding on a release date, but suffice to say, I think releasing it this fall is the way to go with a Halloween game like this. I'm leaning towards sometime in September, but soon as I have an official release date, I'll be sure to announce it on here. I'm also working on another big game project that you're gonna love, but mum's the word on that one for now.
We also had our first public demo of Grave Chase at the recent SC3 arcade meet-up, and it was a blast watching the attendees play it! All the feedback on it was great, and I'm glad that everybody liked how challenging the game was, as we didn't want it to be a cakewalk. Yes indeed, the Groundskeeper and his graveyard minions claimed many lives that day. I'm also planning on having a playable Grave Chase demo at our San Diego Comic-Con booth in July, so if you're attending, you'll be one of the first to try it out!

[click here for high quality video]
And if you'd like to see some footage of the game in action, Phillip O'Riley was kind enough to film the fun happenings at SC3, and he had me demonstrate some of the gameplay in Grave Chase. You'll see it in the above video starting right around the 3-minute mark.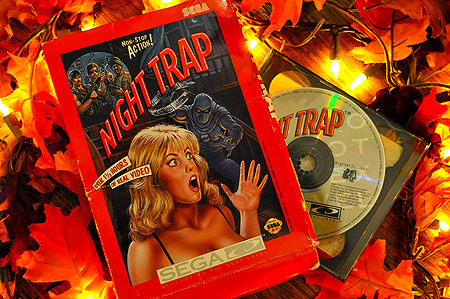 In other gaming news, Night Trap, the infamous FMV game about a vampire slumber party, is returning to consoles for its 25th anniversary. It's definitely something I never expected to see happen, but I'm glad a new generation of gamers will get to experience this hilariously cheesy game. What's nice about this upcoming release is they actually re-captured all the original footage, as seen in the new trailer, so you'll be able to view it in all of its early 90s b-movie style glory. While you wait for the game to come out, check out our in-depth look at Night Trap here.
Hope you enjoyed the huge pictorial of Arcade Expo 2017 that I posted recently too. Be sure to check it out if you haven't already, because there were some incredibly rare games on display, including one that's been on my bucket list to play for ages!
Alrighty, that's all the news for now. More to come soon!

Whether it's by guzzling Guinness at your favorite local pub, laughing at Leprechaun 4: In Space, or consuming a Cookie O'Puss cake from Carvel, I hope you're all enjoying your Saint Patrick's Day celebrations today!
Speaking of all things green, we just learned that our upcoming game, GRAVE CHASE, was Greenlit on Steam, exactly one month to the day from when we first put it up on there! Thanks so much to all of you who voted for it, left comments, and helped spread word about the game on social media. We couldn't have done it without your support. The game itself is basically done, so now all we have to do is finishing adding in all the requirements to get it up on Steam, along with adding in their SDK stuff like virtual trading cards and achievement medals. Once we're done with that process, I'll announce an official release date. Can't wait for all of you to play Grave Chase, and see if you can survive all 31 days of October in the Groundskeeper's graveyard!
It would seem that luck of the Irish is indeed on my side at the moment, because I also managed to track down a box of the new Hostess Shamrock CupCakes! I love mint-flavored desserts in general, and I used to eat these cupcakes by the truckload back in the day, so the new Saint Patrick's Day ones were right up my alley. The box is covered in three-leaf clovers (I guess the cupcakes themselves are supposed to serve as a lucky four-leaf clover), a leprechaun's hat, and a green color-scheme. That "limited edition" emblem makes me think of the Silver Shamrock company. I sure hope eating these doesn't make my head explode with snakes and bugs.
I gotta say, they really did these limited edition Shamrock cupcakes justice. The cupcakes themselves look exactly like they do on the box - a light green icing on top, along with a mint creme filling inside. The mint flavoring is just right; not so strong that it overpowers everything, and not so subtle that you can barely taste it. They're absolutely worth picking up if you can find them in your grocery store. Now I just gotta go pick up a Shamrock Shake to help wash 'em down.
Lastly, I have to ask: Do any of you peel the icing off the top of your Hostess CupCakes and eat it first too, or is it just me?


[click here for high quality video]
I know things have been relatively quiet on here as of late, but whenever things get quiet, you can rest assured it's because I'm working on a big project, and that's certainly the case here. I'm extremely excited to announce Grave Chase as our next game! I've been wanting to make a new Halloween horror game for years now, so it's great to have this next spooky adventure to share with all of you. It's also our first one coming to Steam for Mac & PC, so I'm eager to bring our games to a whole new audience as well.
Grave Chase is a retro-inspired 2D horror action game in which a brother & sister must survive the month of October in the deadly graveyard of a ghoulish groundskeeper.
The Groundskeeper always keeps his graveyard full. Not by having clients, but by killing all the people in town, and throwing their body parts into open graves! One night, however, he murdered the parents of two kids who saw the whole act take place. Now, they've sworn to get revenge using science... and shovels! Together, these siblings hatched a plan to go into the graveyard, dig up body parts, and use science to turn them into an army of monsters to tear the Groundskeeper limb from limb.
It's not going to be easy though, for the Groundskeeper patrols the graveyard constantly with his lantern, searching for trespassers whom he can relentlessly chop into pieces with his meat cleaver. As they traverse his nightmarish graveyard, the siblings will also have to use their shovels to battle hordes of the undead, blobs, axe-wielding psychopaths, ghosts, mummies, and much more. Hey, it's a graveyard; who else do you expect to be hanging around in there late at night?
Grave Chase features old school 2D pixel art, a steady flow of spooky new enemies throughout the game, 31 stages of increasing difficulty, 4 additional unlockable game modes for even more replay value, over 50 achievement medals, special power-ups, an all original soundtrack, windowed or fullscreen play, gamepad support, and you can choose to play as the girl or boy while the other stays home and builds monsters using the body parts you collect.
I hope you're excited as I am about the game. Please take a moment to Vote for it on Steam Greenlight (your votes REALLY help the game) and drop a comment below to lemme know what you think!

« Older Entries Newer Entries »