While our annual "Two Months of Halloween" celebration doesn't officially begin until September 1st, I have some news that just can't wait another 25 days. We all know that last year was an absolute dream come true for Monster Cereal fanatics, what with General Mills finally bringing back Fruity Yummy Mummy and Fruit Brute in addition to retro boxes from the 70s. While it unfortunately appears that we won't be seeing Mummy and Brute this year, there is some good news: I'm happy to unveil the complete set of retro Monster Cereal boxes for the 2014 Halloween season!
General Mills is bringing back the exclusive retro boxes to Target once again, and while they couldn't possibly top last year's news, they're still doing some great fan service here. For starters, these aren't the same mid-seventies retro box designs from last year; they went with the 1979-1980 versions instead, which showcase the monsters pouring milk on their respective cereals. In addition to the alternate retro designs, they've added vintage style cut-out masks to the back of your favorite Monster Cereal boxes. Granted, most collectors won't want to damage their boxes, so I suggest you pick up an extra set so you can cut out the masks and still have some pristine boxes to hold onto. I'm honestly surprised to see the exclusive retro boxes again this year, as I figured they were gonna be a one-time opportunity, so that combined with the fact that they didn't just release the same designs again puts a big smile on my mug, and I can't wait to get my hands on 'em.
Also, in case you haven't heard already, General Mills surprised everyone today by announcing they've teamed up with artists DC Comics to create a brand new set of boxes for the 2014 Halloween season, and guess who has an early look at the complete designs? Behold!
DC Comics artists Jim Lee, Dave Johnson, & Terry and Rachel Dodson have each created slick new box art for the Monster Cereals this season, and they also had Brent Schoonover draw some individual comic strips on the back of each box! While I'll always prefer the original retro boxes, as they tug at my nostalgic heartstrings, I'm digging the new designs and think this could be a start of a wonderful new trend. For too many years, we've seen cereal companies re-release the same box designs every season; so I'm really hoping we see a new set of artists from all walks of life working on modern box designs every year from here on out.
Now you all know I'm a huuuuge fan of Boo Berry cereal, but of the DC designs, I gotta go with the Frankenberry design by Dave Johnson as the pick of the litter. Aside from the wonderfully clunky mechanics embedded in his head, I love that he actually has strawberries painted onto his nails. It's the little details that matter most. That said, I enjoyed the comic strip on back of Boo Berry's box the most, as it had the best monster-themed jokes of the bunch.
It may not be grave-shattering as the 2013 announcements, but we have a great set of Monster Cereals for Halloween this year. I for one am thankful that we're now living in a time where we actually get multiple box designs to choose from and they're far easier to track down than they were about 15 years ago. There was a time when I was getting thousands of people to email General Mills just to convince them to make the Monster Cereals more available to the public. Nowadays, it's no problem having them haunt our Halloween breakfasts. Here's hoping General Mills will continue the trend of of new box designs in 2015... but even more importantly, I'm still holding onto the hope that they'll finally introduce a NEW monster to join their cereal family.
Come on, Big G! Make it happen in 2015!
Now it's your turn. What do you think of the 2014 Monster Cereal boxes and which is your favorite design? What do you think General Mills should create as a new cereal monster mascot? Drop a comment below and lemme know!

I've been meaning to post more about Funko's POP! vinyl toy line for a while, and since I just received a large shipment of some of my favorites in the mail, I thought today would be the perfect opportunity to do so. Unless you've been living in solitary confinement for the last several years, chances are you've seen these figures, because they're everywhere. Normally when a product saturates every nook & cranny of our society, I tend to get sick of seeing it really fast, but that's not the case with the POP! toys. There's just something about their inherently adorable minimalism that I absolutely love, not to mention how much fun it is to see how Funko will redesign a popular character to fit their unique branding.
Now I snagged some extra figures for a lil' giveaway contest that you can all enter, but before we get to that, let's take a closer look at two of my favorite sets: Teenage Mutant Ninja Turtles and Horror Movie Monsters!
Come on, you can't tell me these aren't absolutely fantastic. What I really appreciate is Funko's attention to detail; they could've easily just repainted a single mold for each character and called it a day, but they tweaked each of the turtle's faces to fit their personalities. Raphael looks pissed off, Michelangelo looks happy-go-lucky, and all is right with the world. The fact that they also made a figure for Splinter (complete with cane) and Shredder (not pictured) just shows how much Funko knows what their fans really want. Speaking of which, if anybody from Funko is reading this, please make figures for Krang and a Foot Soldier. I'll also accept Ace Duck.
Moving right along, Funko proves that no matter how horrific a character's subject matter may be, they have the ability to make it absolutely adorable. I'm 100% positive that they could turn Angela from the final scene of Sleepaway Camp into a sickeningly cute figure. Not that they would do such a thing... but they could. As much as I love Freddy Krueger and Beetlejuice, what with the green varicose veins on his face, I think Leatherface is my favorite of this group. His face just looks so hilariously tragic, like he's really having second thoughts about the current trajectory of his life. FACT: Introspective Leatherface is the best kind of Leatherface.
Perhaps best of all, when you collect enough figures, you can set the stage for some truly incredible good vs. evil battles. Freddy vs. Jason? Alien vs. Predator? Psh... that's nothing compared to having all your horror movie heroes and Shredder going up against the Teenage Mutant Ninja Turtles and Splinter. Naturally, Beetlejuice would be the referee for the ensuing battle; just like the Joker, he's an agent of chaos. Now THAT is a movie Hollywood needs to start producing pronto! Speaking of the horror figures, I still need to snag the Gremlins Stripe and Slimer figures, because they clearly need to be part of this ever-growing war.
There are boatloads of these figures out there now ranging to anything from Ghostbusters and Game of Thrones to Adventure Time and even the Monster Cereals (yes, I do have the two Boo Berry variants). I honestly don't see any reason why the toy line would show any signs of stopping, as there is a never-ending supply of pop culture icons they can pay tribute to in squashed vinyl form. Case in point: they even have a Sharknado one coming out in June. Seriously.
I also gotta say that it's nice how they're easy to collect without feeling like you're sinking a fortune into them. Considering they usually don't run more than $10 bux a pop (har! har!), you can quickly build up a nice collection to decorate your shelves or desk space with. And then they'll stand there, staring at you with those longing, desperately beady little eyes as if to say, "We need more friends! Go buy some!" And you'll have no choice to comply, unless your heart is dead or something. Damn you, Funko!
Now I mentioned a giveaway earlier, and I wasn't kidding about it. Behold!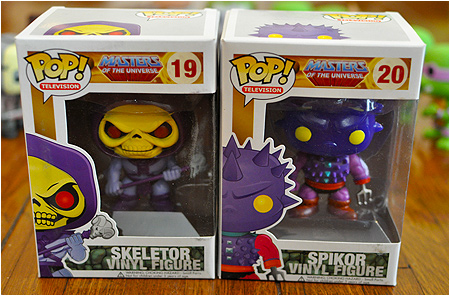 The Masters of the Universe POP Figures Giveaway!
Thanks to my pals over at FUN.com, I have this set of awesome Skeletor and Spikor Masters of the Universe figures to give away to one lucky winner! While He-Man and Skeletor are obviously choices for production, I was really surprised that Funko went with a more obscure character like Spikor instead of Beast Man or Trap Jaw (though they did produce a Hordak one). But damn, did that ever completely nail his look; from the coloring to his tiny little arm trident, Spikor is absolutely perfect!
So what do you have to do in order to win these figures? It's extremely simple. All you gotta do is post a reply in the comments section below and tell me at least THREE characters you'd like to see Funko turn into POP! vinyl toys that they haven't already produced. It can be characters from TV shows, comic books, movies, video games... whoever you happen to think would look awesome as a squashed vinyl toy. And while it's not a requirement, it'd be nice to hear the reasons why you selected your characters too, so be sure to include that by all means.
You have between now and Friday, May 9th at midnight to post your entry comments. I will be selecting the winner at random, so please only one entry per person, but feel free to list as many characters as you like in your entry. No registration is required to enter, but be sure to fill in the form field with your email address (if you don't already have an I-Mockery account) so I can contact you if you're the lucky winner.
Alright, that's all there is to it. Thanks again to FUN.com for providing me with the fun Funko figures, and be sure to check out their site for more... fun. That's a lot of fun for one sentence. Good luck to all who enter and I'm looking forward to seeing your Funko POP! character ideas!

Don't mind us... we're just a couple of monsters... Halloween party monsters that is. Even though Halloween falls on a weekday this year, I hope you all still find the time to celebrate it in style, whether you're going trick-or-treating, attending a costume party, or simply handing out candies and having an awesome horror movie marathon in your home all night long. Just make sure you do something. For me, Halloween is always a huge celebration of my favorite season of the year, and it marks the culmination of two lengthy months of nonstop, obsessive work all about the holiday.
As you know by now, I dedicate an entire two months to Halloween every year. It's a huge undertaking that swallows my life from September 1st - October 31st, but it's always an absolute blast to work on. This year was probably the busiest I've ever been, because not only was I constantly trying to update the site with new Halloween material, but I was also working on my upcoming Bionic Chainsaw Pogo Gorilla game every day. As you can imagine, this season has been a complete blur within all that going on at once, so with today being Halloween, now seems like a good time to recap some of the highlights we've covered these past two months:
-We found out that monsters love to party with the classic pop-o-matic bubble Yipes! board game.
-We gave a special book report about a Camp Crystal Lake young adult novel that placed the curse of Jason Voorhees smack dab in the middle of a carnival.
-We witnessed the glorious return of all five Monster Cereals in retro boxes, together for the first time ever.
-We learned about a bizarre creature with a penchant for crooning in Brain Damage.
-We listened to tunes on the Jack-O-Juke - our Halloween music jukebox with over 180 spooky songs and counting.
-We found out that the afterlife is even harder for Beetlejuice on the NES.
-We ate Mummified Cheetos that came in glow-in-the-dark treat bags.
-We learned about how Glo-Bones was an incredible skeleton toy that fit in your pocket.
-We discussed some things that shouldn't be scary but often are.
-We splattered your soul with more Greatest Horror Movie Moments.
-We realized that not only is there a Halloween Hot Sauce set that comes in a coffin, but we also have some awesome people in the community who have great hot sauce label ideas of their own.
-We attended the opening night of Halloween Horror Nights for another fun-filled haunt.
-We watched Doc Mock chat with the likes of Bruce Campbell, Bill Moseley, Calico Cooper and more on the red carpet of the Eyegore Awards about all things horror.
-We tried to understand the chaos behind the classic Dr. Chaos NES game.
-We found out that the King's Dominion Haunt is still filled with all kinds of great Halloween attractions.
-We were invited to the very first Los Angeles Halloween Convention.
-We examined some of the finest examples of Horror Video Game Box Art.
-We put three random Halloween Costumes to the test.
-We realized that it's hard to keep your cool when there's somebody murdering people at a ski resort in Iced.
-We conducted yet another extremely thorough Halloween Candy Taste Test.
-We realized Baby Ghost Ducks are probably the greatest Halloween lawn ornaments ever made.
-We remembered that Zombie Nation is still the best game about a vengeful flying severed head that pukes a lot.
-We unboxed and uncovered the truth about a Halloween Mystery Toy.
-We were baffled as to why the Halloween Cuponk beerless beer pong game even exists.
-We marveled at the insane crop creations found at Scarecrow Alley.
-We learned that not only is C.H.U.D. II: Bud the C.H.U.D. a real movie, but it also has some important life lessons to teach us.
-We saw the return of our Halloween Club Pack, which then completely sold out.
-We gave some much needed exposure to the criminally overlooked Monster Squad TV Series from way back in 1976.
-And last but not least, Pee-wee Herman made my Halloween even better by posting a photo my 2010 Halloween costume. Incredible!
You know there is no time I enjoy more than Halloween each year, and having so many of you making I-Mockery your online Halloween home truly makes it all the better. I really try to give you guys the best and widest variety of Halloween coverage you'll find anywhere online every season - from visiting haunts and reviewing movies, to taste testing candies and tracking down the most absurd novelties and more, I always try to make every season special and filled with surprises. Please stick around and continue to share the site with your friends, and I'll do my best to keep that tradition going strong for years to come.
I'll likely have some post-Halloween photos up here along with some other big site updates soon, so be sure to check back often. As usual, I must thank Dr. Boogie for his fantastic contributions to our Halloween celebration. Additional thanks to Protoclown for chiming in with a few Halloween bits as well. I also gotta give Re major credit for allowing me to make our home look like it was hit by a Halloween hurricane these past few months.
Of course, a huge thanks again to you for sticking with us during our annual "Two Months of Halloween" celebration. It's a lot of work to put all this content together, but it's a lot of fun too, and your continued feedback definitely helps keep my energy up throughout the season. If you haven't already, please like us on Facebook, follow us on Twitter, and uh... tumble us on Tumblr. This is a completely independent web site, and we rely entirely on people like YOU to spread the word about it, so please do so if you can!
Please drop a comment (whether you're logged in or not) in the blog here and let me know what you thought of the Halloween season and what your favorite articles were. Also, let me know what your Halloween plans are and feel free to post photos of your costumes if you're dressing up or your decorations or any other Halloweeny things you like!
Thanks again everyone and have a keen Halloween!

In his latest Mini Mausoleum episode, Doc Mock reviews the Halloween "Let It R.I.P." edition of Cuponk! It's a game with all the excitement of beer pong... without the beer. Spooooooky!

[click here for high quality video]
What are your thoughts on Cuponk? Played any other corny Halloween games this season? If so, lemme know about 'em by dropping a comment. And again, in case you missed the previous Doc Mock episode, you can still check it out right here!

Doc Mock's Mini Mausoleum has returned for another YouTube episode, and this time he reviews a set of what just might be the greatest Halloween lawn ornaments you'll ever see: Baby Ghost Ducks!

[click here for high quality video]
Hope you enjoy it and thanks for watching! By the way, if you missed the previous Doc Mock episode, you can check it out right here!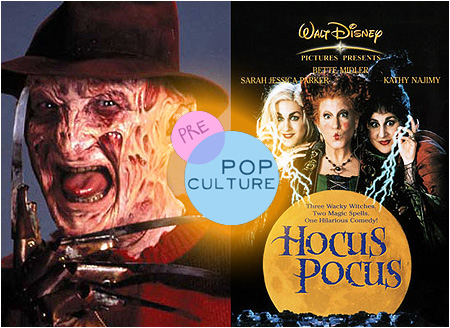 So I was recently invited to be one of the guests on the PrePopCulture podcast, hosted by Jen Krueger (no relation to Freddy), to talk about good horror movies to watch during the Halloween season. Jen is basically terrified of real horror movies, so while she made suggestions for some family friendly Halloween options, it was up to Jake Jabbour and I to recommend the scarier stuff. We had a really fun discussion, so check it out if you're looking for a nice way to keep your ears occupied for an hour. If you happen to be on iTunes, please rate her podcast to help it out too. Hope you enjoy it and thanks for listening in!