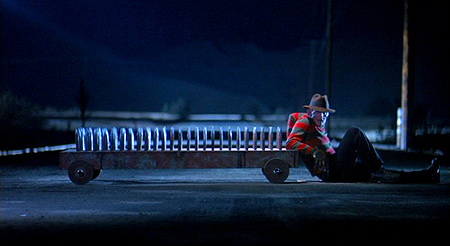 Most of you know how Freddy Krueger is my all-time favorite horror movie monster - whether it was him terrifying people in the first A Nightmare on Elm Street, or making audiences laugh in the later films, I remained a die-hard "Fred Head" throughout. Much like my previous article for Blumhouse, in which I attempted to defend the much-maligned Poltergeist III, I've now turned my attention to what was one of the most poorly received Elm Street flicks. I'm speaking of Freddy's Dead: The Final Nightmare.
While many fans didn't enjoy it, I've always had a soft spot for the sixth installment in which the filmmakers attempted to give the Springwood Slasher one crazy send-off. It's a nonsensical horror-comedy movie chock full o' laughs that never takes itself too seriously, and I think fans would enjoy more it if they could see it that way. What do you think? Check out the article and lemme know what your thoughts on the movie are. Don't forget the power glove!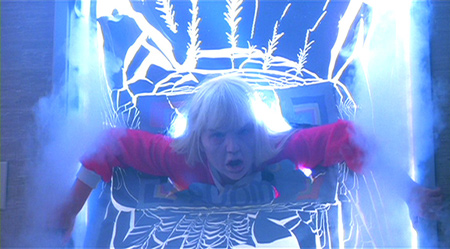 I've always been a fan of the Poltergeist films. The original is an absolute classic, and the sequels, while admittedly not as good, were still entertaining. That said, the third installment was always considered the worst of the original trilogy (and rightfully so), but I still it has merit. Despite some hilariously bad acting and a flimsy storyline, Poltergeist III has a handful of fun scenes and enough creative camera tricks that make it worth watching. With that in mind, I've written a new article for Blumhouse in which I attempt to make a case for Poltergeist III. Hope you enjoy it, and may all skeletons in horror films from this day forward have big, bushy mustaches!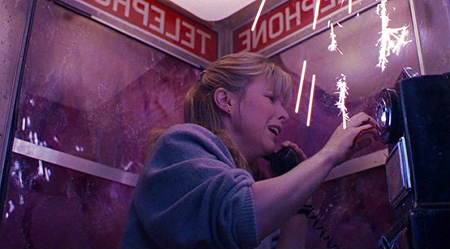 My latest article for Blumhouse just went up, and in this one, I share some crucial tips on how to avoid a hideous Blob attack. As I'm sure you already know, Blobs are sneaky organisms, so you really gotta be on your toes if you're gonna avoid being dissolved into one. Fortunately for you, I've written up a handy guide that should keep you alive. So, check out my tips in the article, then let me know if there are any additional Blob survival tactics people should be aware of in the comments section below. Thanks for reading and be careful out there!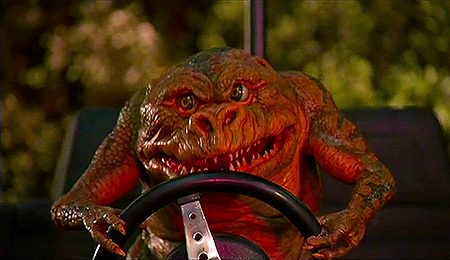 I just completed another article for Blumhouse, and this one is about some Important Lessons I Learned From Watching Ghoulies II. Then again, how could anyone see a film about little monsters wreaking havoc at a local carnival as anything but educational? Grab your favorite ninja throwing star, give the article a look, and lemme know if there are any other lessons you've learned from the Ghoulies in the comments section below. Hope you enjoy it!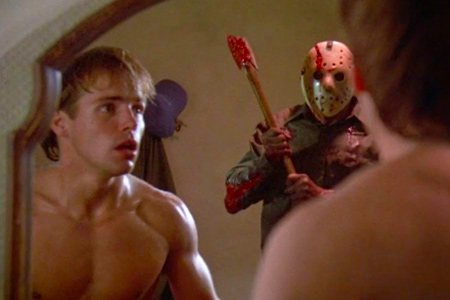 So, I've just started doing some articles for Blumhouse, which is a real treat for me, as I've always been a fan of their work. My first piece just went live and it's all about reasons why I think everyone should love Friday the 13th Part V: A New Beginning. I had a lot of fun writing this piece and have more on the way, so I hope you enjoy it. Lemme know what you think, and feel free to share your favorite things about Part V in the comments section below. As always, thanks for reading!

So Halloween has come and gone once again, and while it's always sad to see it go, I gotta remind myself that it wouldn't feel nearly as special if it lasted all year long. Besides, I ended things on a high note by dressing up in my homemade Jack Burton Pork Chop Express truck costume and drove it straight into the West Hollywood Halloween Carnival! Gimme your best candy, pal... I can take it!
Thanks again to all of you who stuck around for I-Mockery's 2015 "Two Months of Halloween" celebration! Writing so many lengthy articles for the site during that time is always exhausting, but it's also an absolute blast knowing that it's a part of your annual Halloween traditions. As always, I like to share a recap of the many updates that were posted to the site between September 1st and October 31st in case you missed any of it. November is usually a slow month anyway, so what better time to catch up on some good reading? Here's a handy recap of some of the highlights you may have missed:
-We realized that kids in Japan were extremely lucky to see the Ma-Ba Zombies Mad Scientist toys released in their country.
-We saw that some b-movie aliens use Deadly Starfish to kill their prey.
-We saw what it was like when horror movie action figures became roommates, stopped being polite, and started getting real.
-We learned that all holidays can be horrific at the Field of Screams haunt.
-We were invited to the largest Los Angeles Halloween Convention to date and had an awesome time.
-We saw Ash and Xena Warrior Princess team up against the Army of Darkness.
-My stomach somehow endured another massive Halloween Candy Taste Test.
-We learned that Bill the grocery store killer really deserves to be ranked right up there with Freddy Krueger and Jason Voorhees.
-We listened to more tunes on the Jack-O-Juke - our Halloween music jukebox with over 215 spooky songs and counting!
-We visited one of the best haunts on the east coast, The Headless Horseman Hayride & Haunted Houses.
-We learned all about the obscure Super Monstruos horror figures line from Spain.
-We saw that Huey Lewis and The News once made one of the greatest Halloween monster music videos.
-We winced at the memory of all the monsters from the Ghosts 'n Goblins NES game that killed us time and time again.
-We sold out of our Halloween Club Packs once again, so huge thanks to all of you who purchased one!
-We saw that one Slumber Party Massacre was more like Slumber Party Musical.
-We laughed at how seriously Morbius takes his vampire cosplay.
-We discovered that Personal Nightmare really had nothing to do with Elvira.
-We looked at another batch of classic horror-themed pinball machines.
-We were amazed at just how great Amazon's Monster Bucket turned out to be.
-We obeyed the wishes of The Gatekeeper in the old VHS board game, Nightmare.
-General Mills had me on their Monster Cereals Podcast to talk about Boo Berry.
-We saw that people were made of silly putty in the movie Society.
-We paid tribute to an unsung set of glorious monster vehicle trading cards called Weird Wheels.
-We walked through Michael Myers' home and gorged on Dippin' Dots at Halloween Horror Nights.
-We saw the many ridiculous ways one can die in the 1992 horror game, Waxworks.
-We indeed felt quite lucky and happy upon opening this mystery can.
-We were dazzled by thousands of carved pumpkin masterpieces at Rise of the Jack O' Lanterns.
-And lastly, we had some awesome entries in our Trick 'r Treat Animated Sam contest. Congrats to James and Joel3K for being our two lucky winners!
You know there is no time I enjoy more than Halloween each year, and having so many of you making I-Mockery your online Halloween home truly makes it all the better. I really try to give you guys the best and widest variety of Halloween coverage you'll find anywhere online every season - from visiting haunts and reviewing movies, to taste testing candies and tracking down the most absurd novelties and more, I always try to make every season special and filled with surprises. Please stick around and continue to share the site with your friends, and I'll do my best to keep that tradition going strong for years to come. As always, I must thank Dr. Boogie and Protoclown for their fantastic contributions to our Halloween celebration. I also gotta give Re major credit for basically turning our home into a Halloween junkyard these past few months.
Of course, a huge thanks again to you for sticking with us during our annual "Two Months of Halloween" celebration. It's a lot of work to put all this content together, but it's a lot of fun too, and your continued feedback definitely helps keep my energy up throughout the season. If you haven't already, please follow us on Twitter, like us on Facebook, and follow us on Instagram. This is a completely independent web site, and we rely entirely on people like YOU to spread the word about it, so please do so if you can... it helps more than you could imagine!
Please drop a comment below (whether you're logged in or not) and lemme know what you thought of the Halloween season and what your favorite articles were. Also, let me know what you did for Halloween and feel free to post photos of your costumes (if you dressed up), your decorations, or any other Halloweeny things you like!
Thanks again, and stick around, because I'll be updating the site with some new articles soon enough. After all, the holidays are coming up next!