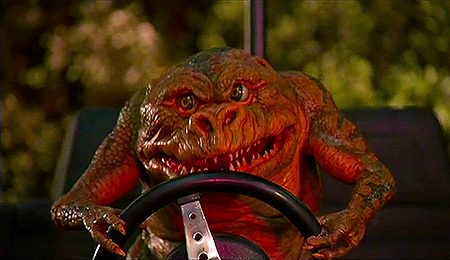 I just completed another article for Blumhouse, and this one is about some Important Lessons I Learned From Watching Ghoulies II. Then again, how could anyone see a film about little monsters wreaking havoc at a local carnival as anything but educational? Grab your favorite ninja throwing star, give the article a look, and lemme know if there are any other lessons you've learned from the Ghoulies in the comments section below. Hope you enjoy it!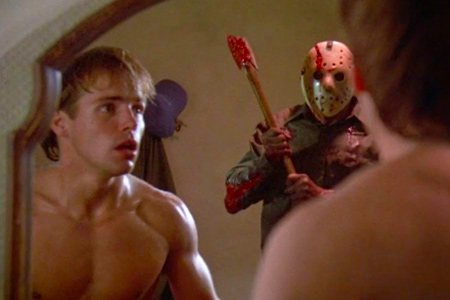 So, I've just started doing some articles for Blumhouse, which is a real treat for me, as I've always been a fan of their work. My first piece just went live and it's all about reasons why I think everyone should love Friday the 13th Part V: A New Beginning. I had a lot of fun writing this piece and have more on the way, so I hope you enjoy it. Lemme know what you think, and feel free to share your favorite things about Part V in the comments section below. As always, thanks for reading!

I'm happy to announce that our new "Pixels In Space" pixel poster is now in stock and ready to ship out, just in time for the 2015 holiday season! Pox and I decided to take our favorite pixels into the stars for an interstellar sci-fi battle like you've never seen before. Once you hang our homage to science fiction on your walls, you'll discover new things with each look, because we're all about filling up all the space we can... or in this case, all the outer space we can. Plus, if you made suggestions for the poster earlier in the year, there's a good chance some of them made the cut! Just visit the store page to see some close-up detail shots of it to see what I mean. And yes, as with our previous print, this one comes in a standard 18" x 24" framing size, so need to worry about having to spend a small fortune on a custom frame for it.
Please help show your support for all the hard work we do here on I-Mockery each year and order a poster (or two... or a hundred), whether it's a gift for yourself or for someone you think will appreciate it. As always, I promise you'll end up staring at it for a loooooong time to come, and it makes for one hell of a conversation piece for whenever you have friends over. If you're a fan of isometric pixel art along with basically anything we've ever written about on this site, then you're going to LOVE this poster. If you order before December 15th, I'll do my best to make sure they arrive in your hands before Christmas. You can order yours on our store page or right here:
Pixels In Space Pixel Poster: $15 (plus $5.00 s&h)
United States Orders
Pixels In Space Pixel Poster: $15 (plus $12.00 s&h)
International Orders
ALSO, for those of you who don't already own our previous "8-bit Worlds Collide" poster, I'm offering a discounted two-pack so you can get both of them shipped together!
"Pixels In Space" & "8-bit Worlds Collide" TWO-PACK! $25 (plus $5.00 s&h)
United States Orders
"Pixels In Space" & "8-bit Worlds Collide" TWO-PACK! $25 (plus $15.00 s&h)
International Orders
I hope you all really dig the new poster, and please drop a comment below to lemme know what you think of it. As always, please share these pixel posters with anybody who you think might enjoy them. Thanks again for the support, because ordering our posters not only gets you some killer artwork for your walls, but also helps us pay our hefty server bills!

I mean, come on... like there was any way I wasn't going to make a drawing of Jason Voorhees about to carve a Thanksgiving turkey with his machete? We're being treated to a Friday the 13th that takes place in November, so I'm not gonna pass up a perfect opportunity like that, and neither should you. Halloween may be over, but this is a great excuse to watch some of the classic Friday the 13th horror flicks before Thanksgiving and Christmas truly take over everything on TV. And speaking of which, here's a handful of my Friday the 13th articles from over the years for you to read as part of your celebrations today:
-Camp Crystal Lake Young Adult Novels: The Carnival
-The Friday the 13th movie debate: Which is the best?
-Jason's 10 Best Kills
-The Cheap Ass Jason X Costume
-8-bit NES Jason's Disco Dance
-An in-depth look at Jason Takes Manhattan
-Friday the 13th: The Series
-Horror Movie Paperback Covers
-Horror Movie Moments: Friday the 13th Part VII
While we're on the subject, if Jason Voorhees could be in new holiday-themed F13th horror movie, which holiday would you choose? Killing Christmas carolers? Attacking the Easter Bunny? Share your dream holiday massacre movies starring Jason in the comments below!
Happy Friday the 13th!

So Halloween has come and gone once again, and while it's always sad to see it go, I gotta remind myself that it wouldn't feel nearly as special if it lasted all year long. Besides, I ended things on a high note by dressing up in my homemade Jack Burton Pork Chop Express truck costume and drove it straight into the West Hollywood Halloween Carnival! Gimme your best candy, pal... I can take it!
Thanks again to all of you who stuck around for I-Mockery's 2015 "Two Months of Halloween" celebration! Writing so many lengthy articles for the site during that time is always exhausting, but it's also an absolute blast knowing that it's a part of your annual Halloween traditions. As always, I like to share a recap of the many updates that were posted to the site between September 1st and October 31st in case you missed any of it. November is usually a slow month anyway, so what better time to catch up on some good reading? Here's a handy recap of some of the highlights you may have missed:
-We realized that kids in Japan were extremely lucky to see the Ma-Ba Zombies Mad Scientist toys released in their country.
-We saw that some b-movie aliens use Deadly Starfish to kill their prey.
-We saw what it was like when horror movie action figures became roommates, stopped being polite, and started getting real.
-We learned that all holidays can be horrific at the Field of Screams haunt.
-We were invited to the largest Los Angeles Halloween Convention to date and had an awesome time.
-We saw Ash and Xena Warrior Princess team up against the Army of Darkness.
-My stomach somehow endured another massive Halloween Candy Taste Test.
-We learned that Bill the grocery store killer really deserves to be ranked right up there with Freddy Krueger and Jason Voorhees.
-We listened to more tunes on the Jack-O-Juke - our Halloween music jukebox with over 215 spooky songs and counting!
-We visited one of the best haunts on the east coast, The Headless Horseman Hayride & Haunted Houses.
-We learned all about the obscure Super Monstruos horror figures line from Spain.
-We saw that Huey Lewis and The News once made one of the greatest Halloween monster music videos.
-We winced at the memory of all the monsters from the Ghosts 'n Goblins NES game that killed us time and time again.
-We sold out of our Halloween Club Packs once again, so huge thanks to all of you who purchased one!
-We saw that one Slumber Party Massacre was more like Slumber Party Musical.
-We laughed at how seriously Morbius takes his vampire cosplay.
-We discovered that Personal Nightmare really had nothing to do with Elvira.
-We looked at another batch of classic horror-themed pinball machines.
-We were amazed at just how great Amazon's Monster Bucket turned out to be.
-We obeyed the wishes of The Gatekeeper in the old VHS board game, Nightmare.
-General Mills had me on their Monster Cereals Podcast to talk about Boo Berry.
-We saw that people were made of silly putty in the movie Society.
-We paid tribute to an unsung set of glorious monster vehicle trading cards called Weird Wheels.
-We walked through Michael Myers' home and gorged on Dippin' Dots at Halloween Horror Nights.
-We saw the many ridiculous ways one can die in the 1992 horror game, Waxworks.
-We indeed felt quite lucky and happy upon opening this mystery can.
-We were dazzled by thousands of carved pumpkin masterpieces at Rise of the Jack O' Lanterns.
-And lastly, we had some awesome entries in our Trick 'r Treat Animated Sam contest. Congrats to James and Joel3K for being our two lucky winners!
You know there is no time I enjoy more than Halloween each year, and having so many of you making I-Mockery your online Halloween home truly makes it all the better. I really try to give you guys the best and widest variety of Halloween coverage you'll find anywhere online every season - from visiting haunts and reviewing movies, to taste testing candies and tracking down the most absurd novelties and more, I always try to make every season special and filled with surprises. Please stick around and continue to share the site with your friends, and I'll do my best to keep that tradition going strong for years to come. As always, I must thank Dr. Boogie and Protoclown for their fantastic contributions to our Halloween celebration. I also gotta give Re major credit for basically turning our home into a Halloween junkyard these past few months.
Of course, a huge thanks again to you for sticking with us during our annual "Two Months of Halloween" celebration. It's a lot of work to put all this content together, but it's a lot of fun too, and your continued feedback definitely helps keep my energy up throughout the season. If you haven't already, please follow us on Twitter, like us on Facebook, and follow us on Instagram. This is a completely independent web site, and we rely entirely on people like YOU to spread the word about it, so please do so if you can... it helps more than you could imagine!
Please drop a comment below (whether you're logged in or not) and lemme know what you thought of the Halloween season and what your favorite articles were. Also, let me know what you did for Halloween and feel free to post photos of your costumes (if you dressed up), your decorations, or any other Halloweeny things you like!
Thanks again, and stick around, because I'll be updating the site with some new articles soon enough. After all, the holidays are coming up next!

I've reviewed a variety of Halloween novelties from Morbid Enterprises over the years, as they produce the kind of items that anybody would drool over. Whether it's a floating Slimer with exaggerated butt cheeks, or a giant inflatable Stay Puft Marshmallow Man, they never seem to disappoint. One of their most recent October offerings is also one of my favorites to date, and I'm going to be giving two of them away to some lucky winners. But first, let's take look at the subject of today's entry:
Behold the Trick 'r Treat Animated Sam plush toy! I was really excited when I first saw this thing promoted, not just because I have an ever-growing collection of Sam toys, but because it's probably the most adorable one I've seen so far. The best representation of Sam will always be the original Sideshow Collectibles figure, but considering that one was extremely limited in release and it now goes for $500+, you'll probably want to find an alternative. I suggest this fella. (more...)
« Older Entries Newer Entries »