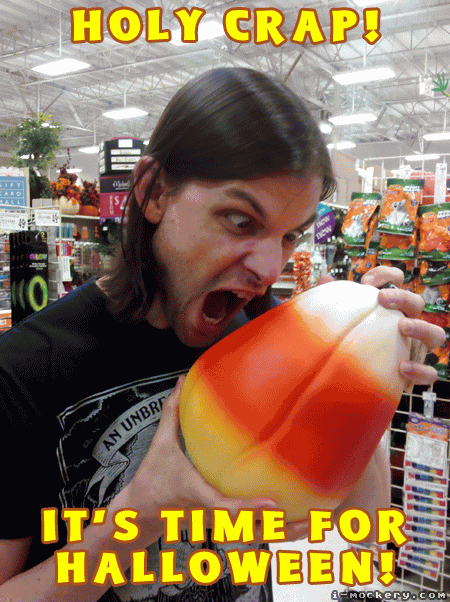 Welcome to the season when vampires bite, when skeletons dance, and when goblins cause a fright. It's the season when the horseman chops off your head, when you see crawling corpses, and everybody watches Evil Dead. This is the season when you always leave on a light, for there are monsters hiding under your bed, and they're keeping you up all night. It's the season for costumes and candy if you know what I mean, just don't get too comfortable... for anything can happen this Halloween!
Here we are once again, my friends. There is no better time to be alive (or undead) than right now. As Mikey said in The Goonies, "This is our time!"; or as Horace said in The Monster Squad, "Wolfman's got nards!" The sweltering summer must now surrender to the skulls and screams in our Halloween dreams. Are you a fan of horror movies, candy, haunted attractions, pumpkin carving, creepy crafts, bizarre novelties, and monster toys? If you responded in the affirmative to any of the above, I promise the next two months are going to be infinitely more awesome for you.
September 1st marks the beginning of I-Mockery's annual "Two Months of Halloween" celebration. Everything update you see on this site between now and October 31st will be Halloween-themed in some way or another. And I have to say... this season has already been shaping up to be one of the best (if not the best) Halloweens we've ever experienced. In July we saw the release of the Jason Voorhees NES figure (and Freddy Krueger is on the way); in August, we found out that all five Monster Cereal characters were going to appear on store shelves together for the first time in history; who knows what September and October have in store for us! The fact that you're reading this already makes you a part of our ever-growing Halloween family, so please hang around and get ready to have some spooktacular discussions with your fellow groovy ghouls.
As you probably already know by now, we pride ourselves on going crazier over this holiday than any other place has in our 15-year history, so we've got all sorts o' brain-melting surprises planned for the 2013 Halloween season here on I-Mockery. We'll have coverage of various haunted Halloween attractions, horrific novelties, my huge annual round-up of the best & worst Halloween candies, horror movie reviews, new videos, craft projects, toy features, contests, and all the other wonderfully random oddities we stumble upon over the next two months.
If any of you have suggestions for Halloweeny things you'd like to see covered this season, please let me know here in the blog thread or shoot me an email. It doesn't matter if it's a Halloween event taking place in your area, a horror movie, an independent seasonal costume shop, some new candy, or some completely bizarro new Halloween novelty... I wanna see and hear all about it, so please get in touch!
To those of you who aren't well acquainted with our annual Halloween celebration here on I-Mockery, I always suggest checking out some of our main Halloween attractions. We have a huge reservoir of Halloween material on this site from previous years, so while you wait for our newest pieces to go up, I highly recommend checking out those older things to get in the spirit of the season.
-I-Mockery's Halloween Collection: Here you'll find quick 'n easy access to most of our Halloween material from the past. Extremely in-depth horror movie and candy reviews, product reviews, and of course the boppin' Halloween adventures of Count Pop himself along with other oddities.
-The Halloween Grab Bag: Much like our "Shorts" section, this is a place where you'll find our smaller Halloween articles, but often covering some of the weirdest stuff we've ever stumbled upon.
-The Greatest Horror Movie Moments: Another favorite is our ongoing quest to document some of the finest moments in horror movies. Sometimes they're moments you're well aware of, other times, it's stuff you probably never knew existed. Either way, if you're looking for some horror movies to check out this season, this is a great place to start.
-The Halloween Jack-O-Juke: Here be our Halloween music jukebox, filled with over 180 hand-picked horrifying songs and counting to keep your decaying ears bleeding with ghoulish glee all season long. Feel free to keep the Jack-O-Juke open in a separate window so you can listen to all of the hand-picked tunes while still checking out the latest article offerings here on I-Mockery. And if there's a song you think should be added to the jukebox, be sure to let me know!
-Trick-Or-Treat Adventure: One of the largest Flash games we ever made... and it's all about Halloween. If you're a fan of classic adventure games such as Secret of Monkey Island and Space Quest, you'll feel right at home with this one as you go on an adventure to build a Halloween costume and then collect enough candies before you battle the ultimate evil! It even auto-saves your progress as you go play, so you don't have to beat the game all in one sitting.
-Haunted House Candy Hunt: In this Halloween game, we pay tribute to the games of the Atari 2600 by creating an all new one in the same style. You must guide two buddies (who just so happen to be from a galaxy far, far away) through all the treacherous rooms of a spooky haunted house as they hold hands. Should you reach the end of the game, you'll have a showdown with the ultimate candy hoarder - The Grim Reaper himself! I've also heard from a reliable source (ie: myself) that there's a secret level select hidden somewhere in the game. But you don't need that anyway, right? Cheater!
-MonsterTime: With our most recent Halloween game, we pay tribute to another favorite arcade classic, BurgerTime. Only difference is, instead of building burgers, you're a mad scientist named Doc Mock who is building classic monsters to save you from the modern slasher monsters who are out for your blood!
-Doc Mock's Movie Mausoleum: Doc Mock, I-Mockery's official horror host, has been performing live at UCB theatre this year and is still looking for a new home to shoot his original web show at, but we have over 30 archived episodes you can still watch online. If you're looking for a good cheesy b-movie flick, check out some of the Doc's episodes, including his Halloween specials from 2009! Doc is planning on hitting up Universal Studios' Halloween Horror Nights once again this year, so expect coverage of that too and possibly some other surprises!
In addition to a ton of new feature articles, you can still expect our regular site updates to the Blog (don't forget the archived Halloween blog entries from years past). We've also got some great Halloween contests in store for you to participate in as well. Please show your support for all the hard work we put into our Halloween celebration by following I-Mockery us on Facebook, Twitter, and Tumblr to get all the latest updates. I-Mockery's big 2013 Halloween season has finally begun and I hope you guys will stick around the entire time to join in all the fun!

My friends, let it be known that 2013 will be forever remembered as the Year of the Monster Cereals. Why? Because, for the first time in our breakfast history, all five original Monster Cereal varieties - Boo Berry, Frankenberry, Count Chocula, Fruit Brute, and Fruity Yummy Mummy - will be available together on store shelves during the upcoming Halloween season. No, you didn't read that wrong... Fruit Brute and Fruity Yummy Mummy are actually coming back! Check out what General Mills just emailed me:
I've been asking General Mills to do this for ages, and I know plenty of big monster cereal fans out there have done the same with online petitions and more, so I gotta hand it to them for finally delivering the goods this year. As you all know, Boo Berry has always been the nearest and dearest breakfast icon to my heart, and I fought for years just to ensure he remained in production, but there's simply no denying that Fruit Brute and Fruity Yummy Mummy were the most overlooked monster cereal varieties. I love that the new boxes for these two are even being treated like classic horror movie posters by labeling them "The Return of Fruit Brute" and "The Return of Fruity Yummy Mummy". Of the two, I gotta go with Fruity Yummy Mummy as my favorite design, because you can go wrong with exaggerated eyebrows made from gauze strips. I do take a slight issue with them spelling his name as "Frute Brute" instead of the original "Fruit Brute" on the new box, but I'm sure that's just them having fun with the release, and don't let it worry you for even a second. Why? This is why:
Holy crapballs! General Mills is actually releasing special retro packaging for all five monster cereals! They've worked out a special promotion where you'll be able to get the original 70s & 80s retro monster cereal box designs exclusively at Target stores this Halloween season. AMAZING!!! If you weren't already super-excited for Halloween this year, you have absolutely NO excuse not to be now. General Mills is doing an incredible thing for all the fans this year and I couldn't be happier about it. Wanna know what else is really great about this? Aside from the fantastic collectible packaging, now an entire generation that never had a chance to try the original old fruit-flavored monster cereals before they were cancelled will finally have a chance to see what they were like.
Also, we'll all have an opportunity to properly reenact that scene from Pulp Fiction where Eric Stoltz is seen eating Fruit Brute. You hear me, cosplayers? I better see at least one Fruit Brute / Pulp Fiction costume at a convention sometime in the next year.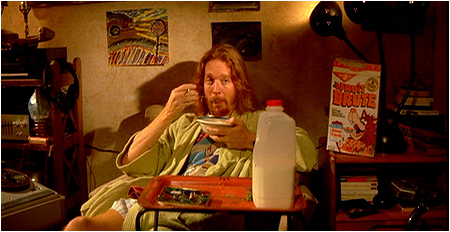 Some cereal boxes are already on their way to my door. Once I get my hands on them, I'll be sure to post more photos and conduct a proper taste test during I-Mockery's upcoming annual "Two Months of Halloween" celebration, but I just had to share these pics that General Mills sent to me right away, because this is easily some of the biggest Halloween news you'll see all season. We have confirmation, my friends... EVERY SINGLE MONSTER CEREAL IS COMING BACK FOR HALLOWEEN 2013 AND YOU CAN GET THEIR ORIGINAL RETRO BOX PACKAGING. All hail the Great Pumpkin, for he has truly bestowed the greatest treats upon us this Halloween!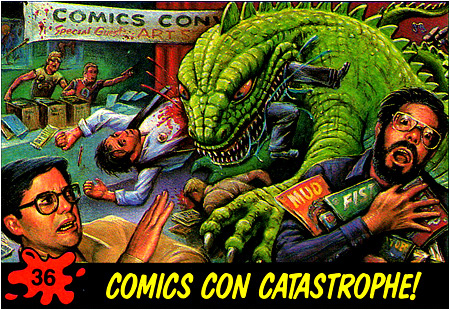 You too could be mauled by a dinosaur at Comic-Con!
Well whaddaya know. It's that special time of the year when we abandon all of our responsibilities and head into the abyss of glorious geekdom that is the 2013 San Diego Comic-Con. This will be I-Mockery's fifth time as an exhibitor and I'm really excited about it for reasons you'll see learn about below. Be sure to pay us a visit if you're coming to Comic-Con as we'll be at (Booth #E10 - near Aisles 600 & 700 on the West side of the convention center - here's a map). This year we'll have the following goodies on hand:
-For the first time ever, we'll be showcasing a playable demo of our upcoming Adult Swim Games project, Bionic Chainsaw Pogo Gorilla game will be available to play for free on a custom arcade cabinet! Up until now, we've only leaked screenshots over the course of the year, but this will be the first time people will have a chance to see all the madness in action. This has been a huge project and I can't wait to see how everybody reacts to it. We'll have the first two levels and boss fights available to play along with some other fun surprises unlocked in the game! They also moved all the other big video game companies over near our side of the convention this year, so it looks like we'll be in good company!

-While Abobo's Big Adventure (which just won "Game of the Year" on Newgrounds!) won't be there since we're showcasing BCPG, we'll still have a giant Abobo on-hand, waiting to pose with you for a very special photo opportunity.

-Glow-in-the-dark "Giga Say Watt!?" I-Mockery t-shirts!

-The complete "Four Seasons of Pixels" series of posters! If you haven't seen them, these four posters will make your eyes bleed pixelated rainbows of joy.

-A new mini-comic by Strangepuppets!

-I-Mockery Button Packs!

-I-Mockery Magnets & Stickers!

-PickleMan comic books! Protoclown's comic books!

-They've been a staple at our SDCC booth every year, so why break with tradition? Free ultra-gory "Dinosaur's Attack" vintage trading card packs from the eighties with every purchase! (this site is old as a dinosaur, so why not?)

-Free stickers for people who manage to defeat one of the big bosses in our Bionic Chainsaw Pogo Gorilla game!

-The latest videos from my Youtube channel and more!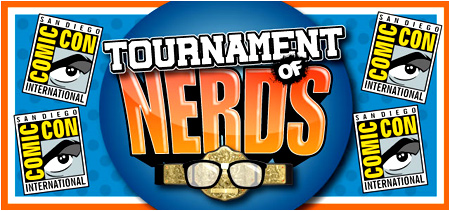 In addition to all the Comic-Con booth fun, I'll be performing in a free, LIVE Tournament of Nerds. The show will be Thursday, July 18th at 7:30PM, located at the Room 26AB in the convention center. Myself, Maddox, and other funny nerds will all be in the show along with some special guest judges, so don't miss out on it. I'll be doing one of my favorite characters at this event, so I promise you'll have a good time watching it.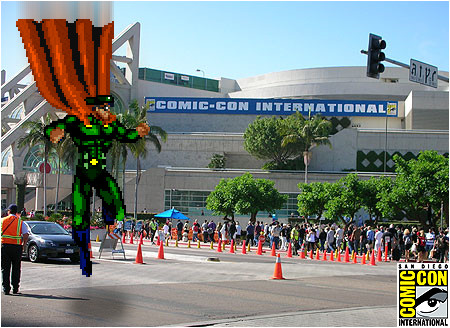 As always, we had an absolute blast last year, so I can't wait to head on down to the convention and get started. It's too much fun meeting longtime fans of the site along with all the new ones. We've put a ton of work and cash into making this happen once again this year, and it's all because want to celebrate the 15+ years this site has been online with the fans that have kept us going! So, if you're going to be at the Comic-Con, be sure to stop by I-Mockery Productions Booth #E10 - near Aisles 600 & 700! (here's a map to our booth)
Myself, Re, and Nick (programmer of the Abobo game) will all be there at the table again this year. And yes, to those of you who've asked, we'll be more than happy to sign anything you buy (or any other weird things you bring to the convention for us to sign). We'll even sign your face if you remember to bring it with you.
For those of you who can't come, we're sorry you're gonna miss it, but rest assured we'll still do our best to take as many photos of the convention as possible like we do for you every year. Obviously, we're gonna be super-busy with the booth, so getting time away from it to take pictures is always tricky. Once I'm back in town from Comic-Con, I'll try to post up all those photos as quickly as possible. I'll also try to update the I-Mockery blog and Facebook page with some photos each day if time permits.
Again, for those of you who've never been, I feel I need to once again remind you of a very important fact: despite the misleading name, the Comic-Con has MUCH more than just comic books. True, if you're a fan of comic books, you'll be in heaven, but if you're not that into 'em, there's still PLENTY for you to do. Over the years, the convention has basically become a mega-media event. The convention center is chock full o' the latest video games for you to test out, tons of movie promotions, toys galore, incredible costumes, and some truly amazing artists as well. If anything, comics have taken a backseat to all the other crazy things going on at the convention. So yeah, the name is really misleading to some people, and that's unfortunate because they have no idea what they're missing out on.
Be sure to keep an eye on the I-Mockery Facebook and I-Mockery Twitter pages throughout the week. I'll try to update the I-Mockery Tumblr as well. I'm gonna be super busy, but I'll do my best to update them from Comic-Con whenever I have a chance.
Alright, that's all for now. Wish us luck, cuz this is gonna be one hell of an insane week... again!
If you want to relive the Comic-Cons of yesteryear, here's a look at just some of our huge photo galleries: [2012] [2011] [2010] [2009] [2008] [2007] [2006] [2005]

I'm sure some of you recall my attending Anime Expo last year, as I had a great time checking out all of the crazy costumes that people put together - even when they were referencing something far too obscure for me to understand. Well, I had the opportunity to attend Anime Expo 2013 this past Saturday and it seemed like there were more people in attendance than ever before. Anime Expo was so crowded I felt like I had wandered into the San Diego Comic-Con instead, but that only meant there were even more amazing costumes to check out. For those of you who didn't get to attend, I made this video so you can see what the expo was like:

[click here for high quality video]
Hope you enjoyed the video, cuz I'm definitely looking forward to attending Anime Expo again next year. As always, please drop a comment on the Youtube page and subscribe to my channel if you haven't already. Lastly, if you missed my recent antics at E3 2013, hit the jump to see those videos as well! (more...)

This past weekend, I went to the 2013 Renaissance Pleasure Faire in Irwindale, California. Now I hadn't been to one of these events since our first big road trip across the country back in 2006, so I guess I got a bit overexcited, because I couldn't help myself from yelling at everything in sight. Fortunately for you, my friend Brad was following me around with a camera all afternoon to document the entire experience. Here it is:

[click here for high quality video]
Hope you enjoyed the video, because I had a great time filming it with all the nice people at the ren faire. May my screams echo through their honorable their kingdom for all eternity to ward off evildoers. As always, please drop a comment on the Youtube page and subscribe to my channel if you haven't already. More videos to come!

So some brilliant Friday the 13th fan by the name of Will Edwards painted a custom Jason Voorhees figure so it would look just like his purple and blue 8-bit character incarnation from the original Friday the 13th NES game. Awesome idea, right? Well it gets better. He tweeted the image to the NECA toy company, and they loved the figure so much, they decided to actually produce it! Behold:
You can't tell me that isn't a thing of absolute beauty. Now, I've scored some great Comic-Con exclusive figures in the past, but I'm more excited about this one than anything I can remember. It even glows-in-the-dark and will come with NES tribute packaging! The only thing I would change is I think they should include a weapon that looks exactly like a scrubbing brush, just like how Jason's axe appeared to be one in the original game. Still, this figure is an absolute must-have! Huge kudos to Will Edwards for coming up with such a killer idea, and kudos to NECA for recognizing that it's something that all action figure collectors, horror fans, and video gaming enthusiasts alike would want to own.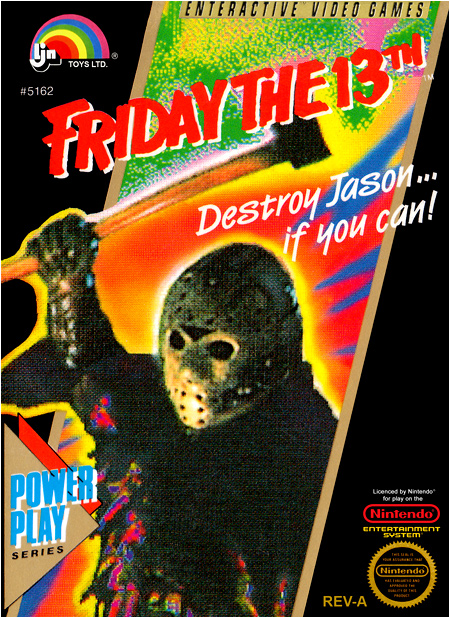 Friday the 13th is one of the few NES games I still own complete in the original box. Despite it being far from my favorite game, I always loved how colorful the packaging was. Rarely do you see Jason Voorhees bursting out of some trippy rainbow world with neon shreds of fabric dangling off his upper torso, and man did it ever work. The game itself was frustrating as hell for anybody who played it, especially when those damn words "You still haven't defeated Jason... and he's even stronger!!" popped up on the screen. Still, I have fond memories of it, even when I was fighting wolves, bats, and zombies instead of Jason himself. If you've never played the game, here's a seriously impressive speedrun done in under 5-minutes that would've absolutely blown my mind had I seen it when I was a kid:
I'll be sure to post more details on the Jason Voorhees NES figure once it's in my hands. Man... SDCC 2013 simply can't come soon enough. In the meantime, you can learn a little more about the figure here.
« Older Entries Newer Entries »