I recently appeared as a guest on two more episodes of Screen Junkies' "Movie Fights", and we got in some hilariously heated debates as always about a wide range of movie topics. In this one, we discuss everything from the best movie villains of the 90s and the lamest movie monsters of all time, to dream sequels, favorite movie cameos, Star Wars spin-offs, and much more. You can watch the first episode here:

[click here for high quality video]
And once you're finished with that one, here's the second episode that I was in:

[click here for high quality video]
Thanks for watching the show, and in case you missed the announcement, our all new pixel posters are finally available for purchase. If you enjoy what we do on I-Mockery and wanna help support the site while simultaneously getting something awesome to display on your wall, please order one today!

Having released our "8-bit Worlds Collide" pixel poster, Pox and I decided it was time to take our pixels where no pixels have gone before. Yes indeedy, we've decided to do an all Sci-Fi themed pixel poster set in outer space! As always, we wanna give all of you a chance to help create it. We always love seeing what awesome ideas you come up with, as many of them have ended up on our previous prints, so it's time for you to use your noggins once more to help us produce another pixelated universe that'll keep your eyes occupied for eons!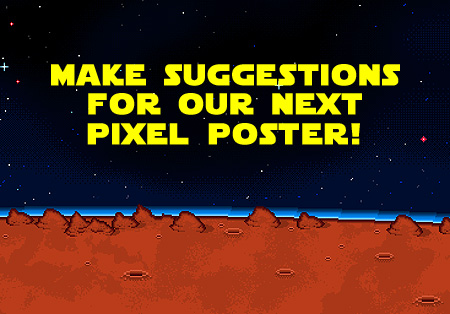 With that in mind, please post your suggestions below for characters, ships, vehicles, and anything else you'd love to see in our next pixel print in the comments section below - you don't even need a registered account to post 'em! Be sure to make as many suggestions as you can come up with; the more we receive, the more likely it is that we'll include some of 'em on this poster. Also, if you can, please make sure your suggestions have something to do with Science Fiction. It doesn't matter if it comes from movies, television, comics, cartoons, toys, or something else entirely... all we ask is that it has something to do with science fiction and/or outer space. To help get your creative juices flowing, here's a small sampling of the happy chaos that can be found on our previous pixel prints: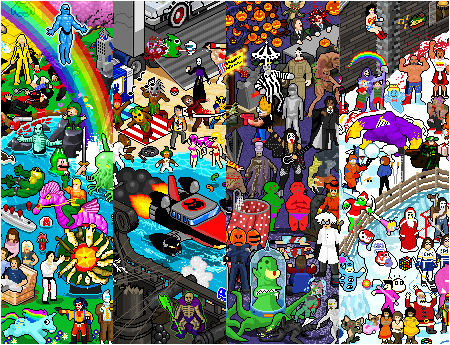 I'm really excited about this next print, as Pox and I already have a really good start on it and it's looking great. Also, for those of you who haven't had a chance to pick up our "8-bit Worlds Collide" prints, they're still available here. So many pixel battles being fought simultaneously all on one poster!
Alright, start posting your suggestions here in this thread and maybe your ideas will end up on our next big pixel print!

This past week I was on another episode of Screen Junkies' "Movie Fights", and once again, it came right down to the final question to decide the outcome. In this one, we discuss everything from The Fantastic Four to the Indiana Jones franchise being rebooted, and much more. You can watch the full episode here:

[click here for high quality video]
As always, I hope you enjoy it and thanks for watching the show!

Hope you're all having a keen 2015 so far! Last month, I made my third appearance on Screen Junkies' "Movie Fights", and this battle came right down to the wire. I had a lot of fun on this episode talking about everything from the merits of Big Trouble in Little China to why I think The Secret of Monkey Island could make for a great movie, and much more. You can watch it here:

[click here for high quality video]
Thanks for watching the show and hope you enjoy it!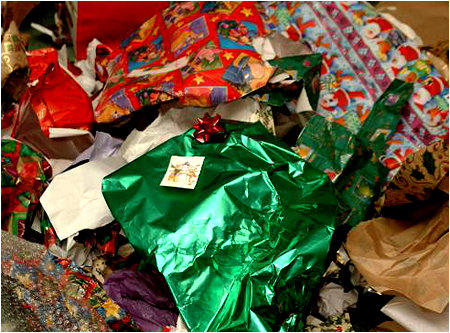 Ho-ho-hope everybody had a great Christmas holiday! So what did Santa leave under your Astro-Weenie Christmas Tree this year? Yeppers, you know the drill... post what gifts you received over the holidays this year so we can all be extremely jealous and decide who we need to burglarize in the future. Post lists of whatcha got and feel free to include photos of your Christmas holiday hauls! Let's see just how spoiled you bastards really are!

I'm happy to announce that our new "8-Bit Worlds Collide" pixel poster is now in stock and ready to ship out in time for this holiday season! Pox and I decided to pit our favorite pixels against one another for an all-out brawl of epic proportions, and with so many battles going on, this is easily our most ambitious poster to date. Imagine how awesome your wall will look when you have this beautiful print featuring over 170 unique characters hanging on it. You and your friends will stare at this for ages, discovering new things each time. Plus, if you made suggestions for the poster, there's a good chance some of them made the cut! Just visit the store page to see some close-up detail shots of it to see what I mean. Also, after many requests, this is our first print that comes in a standard 18" x 24" framing size, so no more worries about having to search everywhere for a frame that it will fit in!
Please help show your support for all the hard work we do here on I-Mockery each year and order a poster (or two... or twenty) whether it's a gift for yourself or for somebody else. As always, I promise you'll end up staring at it for a loooooong time to come and it makes for a hell of a conversation piece for whenever you have friends over. If you're a fan of isometric pixel art along with basically anything we've ever written about on this site, then you're going to LOVE this poster. You can order yours on our store page or right here:
8-Bit Worlds Collide Pixel Poster: $20 (plus $5.00 s&h)
United States Orders
8-Bit Worlds Collide Pixel Poster: $20 (plus $15.00 s&h)
International Orders
I hope you all really dig the new poster, and please drop a comment below to lemme know what you think of it. Thanks again for the support and please share these pixel posters with anybody who you think might enjoy them!
« Older Entries Newer Entries »