"It's not you, Ferdy. I'm just not used to be chased around a mall in the middle of the night by killer robots." If there's one thing Chopping Mall taught us, it's that shopping can be deadly. Fortunately for you, I-Mockery's Halloween Club Packs have returned for the 2014 season, and they're so full of spooky goodness that even the most dedicated Killbots will steer clear of anybody who purchases one. I've been assembling these packs for months now, scouring the globe for the best Halloween goodies deemed worthy for inclusion in these limited packs, and man oh man... did I ever find some great stuff! Behold!
Are you drooling yet? Tell me that's not a beautiful sight! This is just a mere sampling of what you can expect to find in one of our Halloween club packs, but I know you wanna learn a bit more about some of the bigger items you'll be getting in this year's box. So let's begin with my personal favorite item: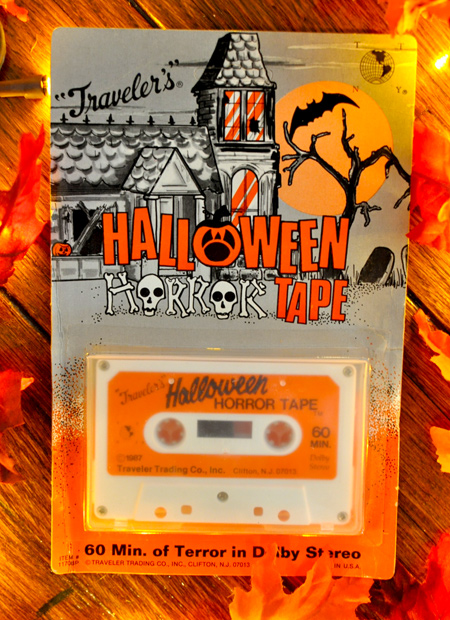 Yep. I've actually acquired a boatload of vintage Halloween Horror tape cassettes from back in 1987, still sealed in their original packaging, and everybody who places an order will be receiving one! The packaging on these are beautiful, complete with a classic haunted house, a creepy old tree, a pumpkin, tombstones, and a bat flying in the moonlight among other things. You also have some crazy font action going on here, what with the "o" in "Halloween" being a jack-o-lantern, and "Horror" written in a boney font which always causes people to stare since it's so much harder to read. And seriously, with a tagline like "60 minutes of terror in Dolby Stereo", how can you possibly go wrong? Good stuff.
Another other big item in this years Halloween pack is a horror figure from the NECA Scalers toy line! In every club pack, I'll be including one of these brand new figures that are both terrifying and adorable. Terrorable? As you can see here, you might get Jason Voorhees from Friday the 13th, Freddy Krueger from A Nightmare on Elm Street, or even Gizmo from Gremlins. I also have some Xenomorphs from Aliens, some Predator figures, and even some Gollum toys! Regardless of which monster you receive, I'm sure you'll love 'em! Plus, if you take them out of the package, they will clutch onto your cords and cables with all of their might! Just imagine listening to our Jack-O-Juke on your favorite set of headphones as Gizmo or Freddy dangle from them. That's the kind Halloween experience everyone needs.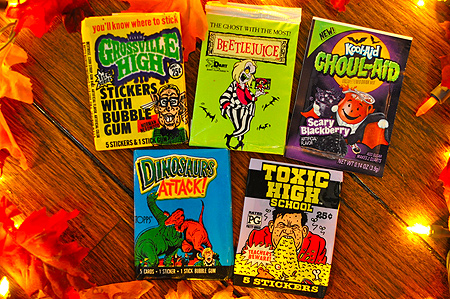 Everybody seemed to love the packs of trading cards and stickers I included in the club packs last year, so I've assembled another batch of classics for 2014! Each box will contain a variety of trading card packs such as the unsung Grossville High cards (circa 1986), Beetlejuice cards from the animated series (circa 1990), Toxic High School cards (circa 1991), Dinosaurs Attack cards (circa 1988), and more. Just don't eat the included gum, cuz it's even more stale than it was when these trading cards were originally released!
I'm also including a packet of Ghoul-Aid in every club pack this year, because Halloween simply wouldn't be complete without a delicious Scary Blackberry beverage. And this stuff really is delicious and worth tasting if you haven't before, though I have a feeling half of you will save them for all eternity, which is completely understandable. I don't care what the expiration dates say, I'm convinced Kool-Aid mix (er, Ghoul-Aid) has the same shelf life as your average Twinkie, so hold onto 'em as long as you like.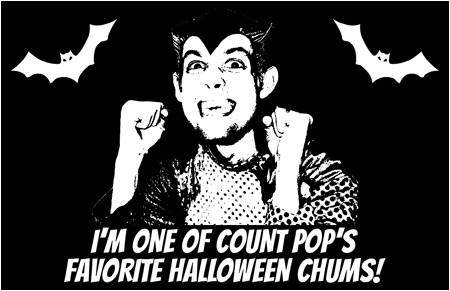 Since a lot of people missed out last year and asked me to reprint them, I'm including a Count Pop vinyl sticker in every Halloween Club Pack once again. Stick it on your car, your laptop, your face, or wherever the world will be able to clearly see that you're one of the Popster's favorite Halloween chums! You'll also find one of the classic I-Mockery shiny stickers in each pack as well. It'll make you happy and it also works as a makeshift portable funhouse mirror.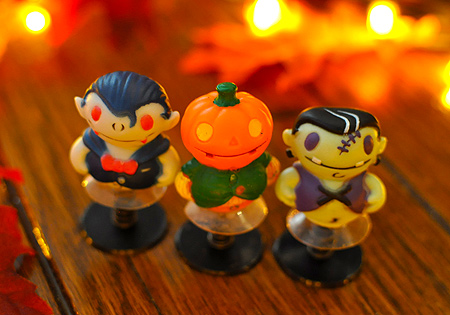 As always, I'm including a variety of random Halloween trinkets, toys, stickers, and treats in every pack too. You'll find everything from orange & black Halloween fortune cookies with actual spooky fortunes inside them, bloodshot eyeball candies, and sticky spectres to springy monster toys (pictured above), skeleton figures, ghost poofs, and SpongeBob SquarePants Candy Corn Krabby Patties (seriously, that's a thing that exists!), Halloween Mad Libs, and more. There will be other little surprises included with every order to ensure this box o' goodies keeps you entertained all month long.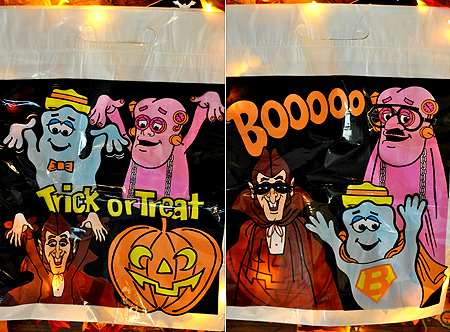 [click here to see the full-sized photo!]
To top it all off, five lucky club pack purchasers will receive one of these vintage double-sided Monster cereal trick-or-treat bags from the early 80s featuring Boo Berry, Franken Berry, and Count Chocula! They're from my personal collection, made of thick plastic, and often go for $30-$50 on the rare occasion that they pop up on auction sites. You can frame them to hang on your wall or go out trick-or-treating with them this Halloween. Hell, you can even fill the bags with monster cereal and milk for a unique breakfast experience if you want... not that I'd recommend doing such a thing. (you should totally do that)
As you can see, there's a whole lot o' fun in every box. I've spent even more time this year running around putting together all the supplies for these Halloween packs, so I'm really excited to hear what you think of 'em when they arrive at your doorstep. Please note that while I've made more than twice as many club packs as I did in 2013, they're still limited in quantity. Once they sell out, I won't be reproducing them again, so be sure to place your order early to ensure you get one and aren't left standing alone in a pumpkin patch like a disappointed Linus waiting for the Great Pumpkin to arrive. Nobody wants to be a disappointed Linus.
Please keep in mind, you're not only getting a club pack filled with loads of hand-picked Halloween fun, you're also helping support all the time and work put into I-Mockery. Halloween season is easily the most important time of the year for me, but it's also the most expensive time as well. In addition to the cost of running I-Mockery, I rack up some hefty traveling expenses and purchases for all the articles and reviews I post on this site, so you purchasing my club packs and other merch really helps offset those costs. Also, if you have any friends who might like the Halloween Club Pack, please let 'em know about it!
The Halloween Club Packs are $31 a pop (after all, Halloween is on October 31st) for anybody in the continental United States, and yes, that price does include shipping. Only one purchase per person please, as I wanna spread the wealth and make sure lots of people have a chance to order one. If you're ready to order, click the button below: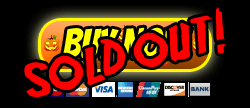 For international customers outside of the United States, due to the widely varying shipping costs and all the time it takes to fill out customs forms among other things (time that would be better spent writing new Halloween articles for the site), the club packs are not available for you to purchase on this page. That said, you know I don't like to leave anyone out, so if you *really* want a pack / can't live without one, and you live outside of the United States., drop me an email about it and I'll try to set one aside for you and we'll work out the shipping costs later. I can't make any promises, as I may get more requests than I can handle, but I'll do my best to get a club pack into your hands just like I did with a bunch of you last year.
Alrighty, that about does it. I hope you have as much fun with these club packs as I had putting them together, because I really wanted to give you what I see as "Halloween in a box" once again. I'm also happy to make them available to more than twice as many people this year and seriously can't wait to hear what you think of 'em! Thanks in advance to all of you who help support I-Mockery and all the work I do every Halloween season by ordering one. Have at it, Halloweenies!
UPDATE (10/14) Holy crap! I can't believe that despite making more than double the amount of Halloween packs, they sold out once again this year! Thanks SOOOO much to all of you who purchased one... this helps out the site more than you know. I hope you all enjoy your packs and that they made your 2014 Halloween season extra fun. Thanks again and be sure to stick around for more Halloween posts throughout October!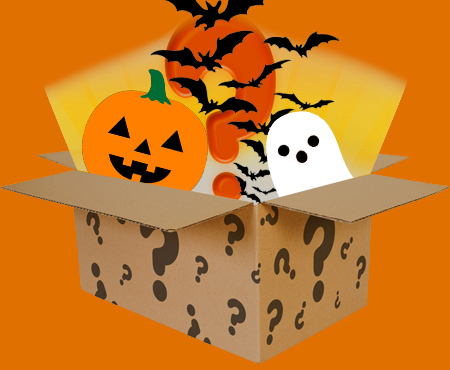 Since everybody's been messaging me about our Halloween Club Packs, I thought I'd make a quick post to to help out those of you hoping to snag one this season.
First off, YES, there will be a new Halloween Club Pack released this year. In 2013, the packs sold out in less than 24 hours, which was awesome and a huge surprise to me. Unfortunately, a lot of people weren't able to get one, so this year I'm making more than twice the amount of packs to ensure that everyone has a good chance of getting one before they sell out. I'm also announcing the official release date and time in advance, so if you want one, hopefully you won't have a problem as long as you're online at the time.
This Sunday, October, 5th at 10am PST (1pm EST) is when I-Mockery's 2014 Halloween Club Packs will be available for all to purchase. Just come to the I-Mockery.com homepage at that time and you'll see all the details about the packs along with details on how to order them.
IMPORTANT: To our international readers outside of the United States, I'm sorry, but due to the widely varying shipping costs and all the time it takes to fill out customs forms among other things (time that would be better spent writing new Halloween articles for the site), the club packs will not be available to you. That said, you know I don't like to leave anyone out, so if you *really* want a pack / can't live without one, and you live outside of the U.S., drop me an email about it and I'll try to set one aside for you and we'll work out the shipping costs later. I can't make any promises, as I may get more requests than I can handle, but I'll do my best to get a club pack into your hands.
Alrighty, that's all for now. Thanks again to all of you who pick up a pack this year! Running this site costs a boatload o' cash, especially during the Halloween season, so not only are you getting a box full of awesome goodies, but you're also really helping me keep this ghost ship running smoothly. I really can't wait for you to see what goodies I've pieced together for this year's pack, as it's taken me months to do so, and I'm super excited about it! Good luck on Sunday, everyone!

We all know that lots of horror novels have been turned into horror movies over the years (especially with Stephen King), but what about when a horror movie comes first? Sometimes those movies are adapted into books, often with authors making significant changes to the stories. Last year, I did a full report on a super cheesy Friday the 13th young adult novel with a completely original storyline and some amazing cover art. Reading it reminded me of some of the horror movie adaptation books I had when I was younger, and many of them featured all new covers that were completely different from their horror movie poster and VHS box counterparts. Sadly, I sold off most of those books ages ago, and only have a handful left that are surely buried so deep in a box somewhere that it's as if I was trying to make it impossible for myself to ever find them again. Fortunately, these books weren't all that uncommon, and I found some great photos of their covers on eBay. With that in mind, I'd like to share with you five of my favorite examples of horror movie paperback cover artwork.
Here we have the cover for the Friday the 13th Part VI: Jason Lives paperback novel, and as you can see, it's very different from the original movie poster that featured his hockey mask glowing behind a tombstone. It still plays into the whole Jason being resurrected theme, what with the lightning coursing through his bloody machete and mask. While I haven't read it, this is the book known for featuring Elias Voorhees (aka: Mr. Voorhees... Jason's father!), so aside from the colorful cover art, it's worth looking into for that reason too. Also, the author apparently spells Jason's last name as "Vorhees", so maybe it's about an entirely different killer who happens to wear a hockey mask at Crystal Lake Camp.
While it can't compete with the iconic poster art from the original 1978 Halloween film, I've always loved the cover art for this paperback adaptation. It's a blend between a vintage blow mold pumpkin and the scene where Michael Myers dresses up like a ghost and strangles Lynda to death with her telephone cord. The book also gives readers some extra details about Michael Myers' life in the sanitarium and opens with this chilling line about the origins of his curse: "The horror started on the eve of Samhain, in a foggy vale in northern Ireland, at the dawn of the Celtic race. And once started, it trod the earth forevermore, wreaking its savagery suddenly, swiftly, and with incredible ferocity." Kind of makes the cover seem a bit too cheery, doesn't it? Good stuff.
The Friday the 13th Part 3 3-D novelization cover art is easily my favorite of all the Friday the 13th film adaptations, and it should be easy to see why. They didn't even try to make Jason's mask resemble the one in the movie, or any of the other movies for that matter, save for the portion of it that was chopped in the top right section. It's more like a professional NHL hockey goalie's mask, so either it's Jason staring menacingly at us from behind it, or just an extremely pissed off goalie. Either way, gotta love all the blood seeping from the air holes on the mask. Makes you wonder if there was a discarded storyline where Jason Voorhees suffered from hemophilia, yes? I only wish the entire book was printed so you needed 3-D glasses to actually read it, since it does actually say "3-D" on the cover. Sure, that'd be pure hell on your eyes, but goddamn... would that be an incredibly corny and amazing promotional novelty or what!?
Here we have The Nightmares on Elm Street paperback, which includes the first three movies, and does a surprisingly good job of recreating them. I must've read this book a thousand times when I was a kid, and to this day, the cover features what is honestly my all-time favorite illustration of Freddy Krueger's infamous razor glove. The lightning, the barely visible tattered sweater sleeve, the claw marks raking their way across the title... it's just perfect in every way. There was a second paperback that covered parts 4 and 5, but the cover for it was unfortunately one of the standard Freddy Krueger press photos instead of another fantastic illustration.
I should also mention that the book includes a bonus chapter titled "The Life and Death of Freddy Krueger", and that's where it goes off the rails a bit. For example, it talks about how his father was a pimp and abused Freddy because he wasn't taking up the family business like he had hoped. It also goes on to say Freddy was a drifting drunkard who slept in alleys and ran into trouble with the law, and eventually hired an arsonist to burn down his father's house. Hmm, yeah... can't see most of that being accepted into Elm Street canon.
Last up, we have the Halloween II paperback novel, and I'm sorry to fans of the sequel film poster, but I've always thought this cover was far superior. Yeah, I know the poster was great, blending a skull and a pumpkin together 'n all, but this... this is even better. This is something I'd actually want to see in one of the movies. Can you imagine Michael Myers, killing one of his victims, they carving a jack-o-lantern and leaving the severed head inside it? Or maybe he takes a jack-o-lantern and slams it down on somebody's head after seeing them smashing pumpkins? It would be amazing, and that precise moment has been beautifully captured here on this illustrated book cover.
So those are some of my favorite horror movie book covers. How about you? Do you have any favorite horror movie book covers? What about general horror genre book covers? Lemme know in the comments section below. Also, if you never read my book report on the Camp Crystal Lake young adult novel, you can read it here. Ki-ki-ki... ma-ma-ma...
Happy October, everyone!

If I haven't already been crystal clear over the years, what with him knowing how to throw a party and looking amazing in The Monster Squad 'n all, the Creature from the Black Lagoon (aka: "Gill-Man") is my absolute favorite Universal Studios classic movie monster. He's always felt like the loner of the group... probably because he spends much of his time at the bottom of a lagoon.
Being such a fan of ol' Lagoony, I'm sure you can imagine just how happy I was to see that Creature Features (one of my favorite local shops) had put on a group art show completely dedicated to him. They had some truly fantastic pieces on display and it made me wish my pockets were much deeper, as I'd love to have many of the fine works in my home. Fortunately, taking photographs to preserve the memories doesn't cost a dime, so today I'd like to share with you a handful of my favorite pieces that were on display at the Creature from the Black Lagoon's 60th anniversary group art show. Enjoy!
Black Vavoom indeed! This piece is clearly modeled after the classic "Weird-Ohs" model kits by Bill Campbell. I love that the chassis for his car is a bathtub, and he comes complete with a surfboard and a deep sea diving helmet.
I've seen these life-sized Creature statues a few times before, but that doesn't make them any less impressive, and man what I wouldn't give to have one on display at home. Just look at all the fine details in it; the massive claws, the killer paint job, and thousands of tiny scales. Soooo nice! I really dig the "Criatura da Lagoa Negra" painting next to it as well.
Hit the jump to see the rest of the artwork: (more...)

While I've already covered the 2014 Monster Cereals, how General Mills has released both the 80s incarnations of their boxes (complete with classic cut-out masks) and a more modern incarnation of the original trio of monsters, I simply have to show you what arrived on my doorstep today.
General Mills sent me this incredibly nice "Monster Makeover" box to commemorate their recent collaboration with artists from DC Comics to create the slick new limited-edition looks for Boo Berry, Franken Berry, and Count Chocula. Inside, I found one of each of these new cereal boxes, which is already a great surprise, but it's what's on the outside of the box that really stunned me in the best possible way. I realize what you see above just looks like a somewhat fancy box with a cute skull & cross-spoons and coffin utensils pattern; no big deal, right? Well, that's only because you haven't seen what they did on the other three sides. Behold!
When I first saw this box I shouted "holy crap!", and Re came running into the room thinking there was some kind of an emergency... and there was, because my jaw had fallen onto the floor. General Mills had actually sent me a beautifully crafted box with framed images of each of the big three cereal monsters. What's even better, each monster illustration is actually a large lenticular image! By turning the box, you can see your favorite monsters morph from their original 70s likenesses into their 2014 incarnations. Killer! I love how they created a nice blue frame around Boo Berry too, so it actually looks like a photo worth hanging on a wall. He even has a few happy lil' blue ghosts flying around him. Well, I think they're ghosts. They might be moons, or moon ghosts. Yes, that's what they are - moon ghosts.
Hit the jump to see the other monster sides plus a video to see the box in action! (more...)

Boogedy-boogedy-moooo... er... booo! So why are you staring at a photograph of a cow holding a trick-or-treat bag whilst standing atop of a can of Halloween soda that's resting on top of a can of Real Ghostbusters Ecto-Plazm? Honestly, it's the best way I could think of visually preparing you for just how incredibly random the Halloween season can be. One day you're drinking orange-colored milk in a corn maze filled with pumpkin-headed scarecrows, and the next day you're running through a haunted house as the giant spider gremlin from Gremlins 2: The New Batch stalks you while the theme song from Ernest Scared Stupid plays in the background. It could happen! Yes indeedy, my ghoulish companions, we're gonna be celebrating Halloween every day until the cows come home!
September 1st marks the beginning of I-Mockery's annual "Two Months of Halloween" celebration. Every single update you see on this site from now until October 31st will be Halloween-themed in one way or another. I think we can agree that Halloween 2013 is going to be hard to top considering all of the amazing products that were released last year, such as all of the original Monster Cereals in their retro boxes (including Fruit Brute and Fruity Yummy Mummy). Still, my excitement for the 2014 season has been growing quickly and it's shaping up to be a hell of a good time; it's only September 1st and we've already seen new Monster Cereal designs, Candy Apple Oreo cookies (with Pumpkin Spice on the way!), some amazing new A Nightmare on Elm Street and Friday the 13th Mego-style dolls from NECA (which I'll be covering soon), and who knows what else is on the way. If you're a fan of horror movies, candy, haunted attractions, pumpkin carving, creepy crafts, bizarre novelties, and monster toys, I promise the next two months are going to be infinitely more awesome for you. There is no greater time of the year.
And now for some big updates...
BIG UPDATE #1: I'm trying out Disqus software for the first time this season as the comments system for all our new articles. What does this mean to you? Basically, it means you can use any of your social media accounts OR no accounts at all to comment on an article. You no longer have to register an account on I-Mockery to join in the discussions! The fact that you're reading this already makes you a part of our ever-growing Halloween family, so please don't be shy; if you read a new article that interests you in any way, drop a comment and join in the fun with your fellow graveyard ghouls! Also, if you encounter any problems with this new system, please lemme know, as I'm still making adjustments to it. Hopefully it'll all work out and we'll have a permanent new comments system in place moving forward. (note: old articles will not have this new comments system in place until I have a chance to go through them all).
BIG UPDATE #2: I'm happy to announce that our classic Halloween Club Packs WILL be returning this season with all new goodies! They did incredibly well last year, selling out in less than a day, and I know a lot of people were disappointed they didn't get their orders in on time. This year, I'm doing my best to stock up on enough supplies so I can put together more than twice as many packs as last season. That said, they're still in limited supplies, so when you see them go up for sale here on I-Mockery, place your orders quickly so you don't miss out. If you follow us on Twitter and Facebook, you'll know the instant the packs go up for sale. I don't have an official date / time set yet, but you can expect it to be towards the end of September. Just like last year, these packs will be available to people in the continental United States only. Sorry to our international readers, but the amount of time it takes me to fill out all those customs forms would be much better spent on writing more articles. That said, if you live elsewhere in the world and you really, really want a club pack, you can email me and I'll see if I can possibly set one aside from you.
With that out of the way, let's get into the details of what you can expect to see on I-Mockery in the coming months. As you probably already know, we pride ourselves on going crazier over this holiday than just about any other place has in our 17+ year history, so we've got all sorts o' rib cage-crackin' surprises planned for the 2014 Halloween season. We'll have coverage of various haunted Halloween attractions, horrific novelties, my huge annual round-up of the best & worst Halloween candies, horror movie reviews, new videos, craft projects, toy features, contests, and all the other wonderfully random oddities we stumble upon over the next two months.
If any of you have suggestions for Halloweeny things you'd like to see covered this season, please let me know here in the blog thread or shoot me an email. It doesn't matter if it's a Halloween event taking place in your area, a horror movie, an independent seasonal costume shop, some new candy, or some completely bizarro new Halloween novelty... I wanna see and hear all about it, so please get in touch!
To those of you who aren't well acquainted with our annual Halloween celebration here on I-Mockery, I always suggest checking out some of our main Halloween attractions. We have a huge archive of Halloween material on this site from previous years, so while you wait for our newest pieces to go up, I highly recommend checking out those older things to get in the spirit of the season.
-I-Mockery's Halloween Collection: Here you'll find quick 'n easy access to most of our Halloween material from the past. Extremely in-depth horror movie and candy reviews, product reviews, and of course the boppin' Halloween adventures of Count Pop himself along with other oddities. Of course, be sure to check back here on the homepage every day for the very latest Halloween updates as well.
-The Halloween Grab Bag: Much like our "Shorts" section, this is a place where you'll find our smaller Halloween articles, but often covering some of the weirdest stuff we've ever stumbled upon.
-The Greatest Horror Movie Moments: Another favorite is our ongoing quest to document some of the finest moments in horror movies. Sometimes they're moments you're well aware of, other times, it's stuff you probably never knew existed. Either way, if you're looking for some horror movies to check out this season, this is a great place to start.
-The Halloween Jack-O-Juke: Here be our Halloween music jukebox, filled with over 210 hand-picked horrifying songs and counting to keep your decaying ears bleeding with ghoulish glee all season long. Feel free to keep the Jack-O-Juke open in a separate window so you can listen to all of the hand-picked tunes while still checking out the latest article offerings here on I-Mockery. We've already added 30 new tunes so far this season, and if there's a song you think should be added to the jukebox, be sure to let me know and I'll try to add it before the end of October!
-Trick-Or-Treat Adventure: One of the largest Flash games we ever made... and it's all about Halloween. If you're a fan of classic adventure games such as Secret of Monkey Island and Space Quest, you'll feel right at home with this one as you go on an adventure to build a Halloween costume and then collect enough candies before you battle the ultimate evil! It even auto-saves your progress as you go play, so you don't have to beat the game all in one sitting.
-Haunted House Candy Hunt: In this Halloween game, we pay tribute to the games of the Atari 2600 by creating an all new one in the same style. You must guide two buddies (who just so happen to be from a galaxy far, far away) through all the treacherous rooms of a spooky haunted house as they hold hands. Should you reach the end of the game, you'll have a showdown with the ultimate candy hoarder - The Grim Reaper himself! I've also heard from a reliable source (ie: myself) that there's a secret level select hidden somewhere in the game. But you don't need that anyway, right? Cheater!
-MonsterTime: With our most recent Halloween game, we pay tribute to another favorite arcade classic, BurgerTime. Only difference is, instead of building burgers, you're a mad scientist named Doc Mock who is building classic monsters to save you from the modern slasher monsters who are out for your blood!
-Doc Mock's Movie Mausoleum: Doc Mock, I-Mockery's official horror host, performed at UCB theatre last year and is still looking for a new home to shoot his original web show at, but we have over 30 archived episodes you can still watch online. If you're looking for a good cheesy b-movie flick, check out some of the Doc's episodes that are still archived on YouTube, including his Halloween specials from 2009! Doc is planning on hitting up Universal Studios' Halloween Horror Nights once again this year, so expect coverage of that too and possibly some other surprises!
In addition to a ton of new feature articles, you can still expect our regular site updates to the Blog (don't forget the archived Halloween blog entries from years past). We've also got some great Halloween contests in store for you to participate in as well. Please show your support for all the hard work we put into our Halloween celebration by following I-Mockery us on Facebook, Twitter, and Tumblr to get all the latest updates.
ONE FINAL NOTE: As a writer, the best compliment you can pay me is to chime in with your comments on any articles I post, and to share them with your friends on various social networks. I can't even begin to tell you just how much of my life gets swallowed up by Halloween for two months out of every year, and the workload is pretty tremendous; so it's the little things like your comments that which keep me motivated and going full-steam ahead on my DRAG-U-LA from now through October 31st. I-Mockery's big 2014 Halloween season has finally begun and I hope you'll join me on this spooky ride once again!
« Older Entries Newer Entries »