We attended E3 last week, and wouldn't you know it, I got overly excited about lots of the new video games, promotions, costumes, and huge booth displays that I saw throughout my time there. So excited that I just couldn't help myself from yelling about it all. Fortunately for you, John was there to film all of it so you can enjoy many of the things we encountered:

[click here for high quality video]
We'll have our in-depth E3 article coverage, complete with reviews of the latest games and a boatload o' photos, up online shortly as well, so keep an eye out for it. In the meantime, hope you enjoy the video and be sure to drop a comment and/or subscribe to my YouTube channel if you haven't already. Thanks for watching!

Last week I was invited by my pal, Hal Rudnick (who also co-hosts the Tournament of Nerds at UCB theatre which I perform in regularly), to join him and Eben McGarr for a fun discussion about movie monsters on Screen Junkies. We talked for well over an hour and could've kept going all day long, but since their videos are always edited down to only about seven minutes, that probably would've been pointless. It was a blast to do and we had some really good laughs, so I hope you enjoy it:

[click here for high quality video]
Thanks for watching and I'm looking forward to appearing on Screen Junkies again in the future! If you have a chance, please drop a comment on the video page to let 'em know what you thought of it. And in case you didn't know already, I have a YouTube channel as well and always appreciate new subscribers. Hoping to have some new videos up soon.

I've been meaning to post more about Funko's POP! vinyl toy line for a while, and since I just received a large shipment of some of my favorites in the mail, I thought today would be the perfect opportunity to do so. Unless you've been living in solitary confinement for the last several years, chances are you've seen these figures, because they're everywhere. Normally when a product saturates every nook & cranny of our society, I tend to get sick of seeing it really fast, but that's not the case with the POP! toys. There's just something about their inherently adorable minimalism that I absolutely love, not to mention how much fun it is to see how Funko will redesign a popular character to fit their unique branding.
Now I snagged some extra figures for a lil' giveaway contest that you can all enter, but before we get to that, let's take a closer look at two of my favorite sets: Teenage Mutant Ninja Turtles and Horror Movie Monsters!
Come on, you can't tell me these aren't absolutely fantastic. What I really appreciate is Funko's attention to detail; they could've easily just repainted a single mold for each character and called it a day, but they tweaked each of the turtle's faces to fit their personalities. Raphael looks pissed off, Michelangelo looks happy-go-lucky, and all is right with the world. The fact that they also made a figure for Splinter (complete with cane) and Shredder (not pictured) just shows how much Funko knows what their fans really want. Speaking of which, if anybody from Funko is reading this, please make figures for Krang and a Foot Soldier. I'll also accept Ace Duck.
Moving right along, Funko proves that no matter how horrific a character's subject matter may be, they have the ability to make it absolutely adorable. I'm 100% positive that they could turn Angela from the final scene of Sleepaway Camp into a sickeningly cute figure. Not that they would do such a thing... but they could. As much as I love Freddy Krueger and Beetlejuice, what with the green varicose veins on his face, I think Leatherface is my favorite of this group. His face just looks so hilariously tragic, like he's really having second thoughts about the current trajectory of his life. FACT: Introspective Leatherface is the best kind of Leatherface.
Perhaps best of all, when you collect enough figures, you can set the stage for some truly incredible good vs. evil battles. Freddy vs. Jason? Alien vs. Predator? Psh... that's nothing compared to having all your horror movie heroes and Shredder going up against the Teenage Mutant Ninja Turtles and Splinter. Naturally, Beetlejuice would be the referee for the ensuing battle; just like the Joker, he's an agent of chaos. Now THAT is a movie Hollywood needs to start producing pronto! Speaking of the horror figures, I still need to snag the Gremlins Stripe and Slimer figures, because they clearly need to be part of this ever-growing war.
There are boatloads of these figures out there now ranging to anything from Ghostbusters and Game of Thrones to Adventure Time and even the Monster Cereals (yes, I do have the two Boo Berry variants). I honestly don't see any reason why the toy line would show any signs of stopping, as there is a never-ending supply of pop culture icons they can pay tribute to in squashed vinyl form. Case in point: they even have a Sharknado one coming out in June. Seriously.
I also gotta say that it's nice how they're easy to collect without feeling like you're sinking a fortune into them. Considering they usually don't run more than $10 bux a pop (har! har!), you can quickly build up a nice collection to decorate your shelves or desk space with. And then they'll stand there, staring at you with those longing, desperately beady little eyes as if to say, "We need more friends! Go buy some!" And you'll have no choice to comply, unless your heart is dead or something. Damn you, Funko!
Now I mentioned a giveaway earlier, and I wasn't kidding about it. Behold!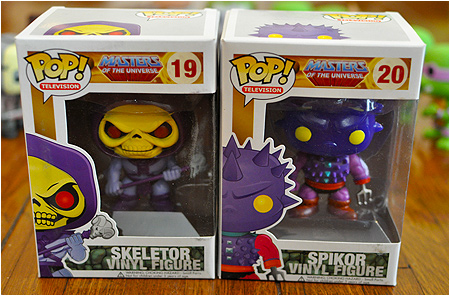 The Masters of the Universe POP Figures Giveaway!
Thanks to my pals over at FUN.com, I have this set of awesome Skeletor and Spikor Masters of the Universe figures to give away to one lucky winner! While He-Man and Skeletor are obviously choices for production, I was really surprised that Funko went with a more obscure character like Spikor instead of Beast Man or Trap Jaw (though they did produce a Hordak one). But damn, did that ever completely nail his look; from the coloring to his tiny little arm trident, Spikor is absolutely perfect!
So what do you have to do in order to win these figures? It's extremely simple. All you gotta do is post a reply in the comments section below and tell me at least THREE characters you'd like to see Funko turn into POP! vinyl toys that they haven't already produced. It can be characters from TV shows, comic books, movies, video games... whoever you happen to think would look awesome as a squashed vinyl toy. And while it's not a requirement, it'd be nice to hear the reasons why you selected your characters too, so be sure to include that by all means.
You have between now and Friday, May 9th at midnight to post your entry comments. I will be selecting the winner at random, so please only one entry per person, but feel free to list as many characters as you like in your entry. No registration is required to enter, but be sure to fill in the form field with your email address (if you don't already have an I-Mockery account) so I can contact you if you're the lucky winner.
Alright, that's all there is to it. Thanks again to FUN.com for providing me with the fun Funko figures, and be sure to check out their site for more... fun. That's a lot of fun for one sentence. Good luck to all who enter and I'm looking forward to seeing your Funko POP! character ideas!

We recently had about four days of fairly rainy weather here in Los Angeles. To many of you, that's a typical week, but to the people of LA who see the sun practically every day of the year, it's a very rare occasion. With that in mind, I present you with my reenactment of how all drivers in Los Angeles react to this terrifying sky substance known as "rain". Enjoy!

[click here for high quality video]
Hope you enjoy the video and be sure to drop a comment and/or subscribe to my YouTube channel if you haven't already. Thanks for watching!
Also, in case you missed the announcement, our new game for Adult Swim called "Bionic Chainsaw Pogo Gorilla" has finally launched. Play it here!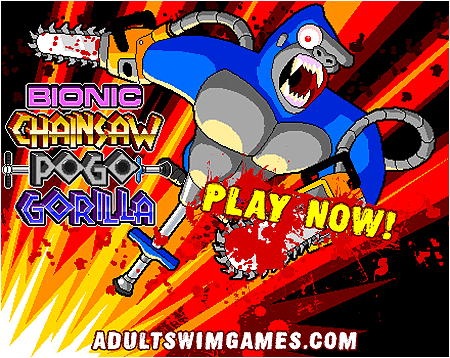 [Click here to play Bionic Chainsaw Pogo Gorilla!]
It's aliiiiiiiiiiiive!!! After over a year of nonstop work and burning the midnight oil with my pals Jacob and Pox, I'm extremely happy to announce that our new action-platformer game Bionic Chainsaw Pogo Gorilla is finally available for everybody to play on Adult Swim Games!
It's hard to describe just how much time and work went into this, but once you've all had a chance to play through the entire game, I think it'll become very clear. There are six lengthy stages to this game; each stage is broken up into three parts and concludes with a huge boss battle. Each stage also has loads of mutant enemies hellbent on killing you, so I'm sure you'll find that those chainsaws come in quite handy. Not only can you use them in standard melee attacks, but with our gorilla being bionic 'n all, he can actually rip his chainsaw arms out of his sockets and throw them at his enemies while his stretchy tendons reel them back in. The more enemies you kill, the more you'll level up your character, which in turn increases both your overall power and the distance you can throw your extendo-arms.
We set out to make a truly different kind of platform game here, and I honestly believe we accomplished that by introducing the unique gameplay mechanic where the protagonist can't walk or run... he simply has to hop and jump everywhere he goes. It's a nice learning curve that I think you'll get used to quickly, all while enjoying the physics of throwing your arms around the screen and making a big mess everywhere you go. And don't worry, you have unlimited continues and your progress is automatically saved every time you play. Whenever you come back to play the game, you can hit "Continue" on the title screen or proceed to the "Stage Select" section if you want to replay an area in search of additional costumes & items.
On top of that, we added in boatloads of costume elements to the game so you can customize the hell out of your character. Sure, you start out as a Bionic Chainsaw Pogo Gorilla, but you can actually become any number of combinations by replacing your arms, chest, legs, and head. Did you know you can become a Bionic Ghost Taco Unicycle Narwhal? No seriously, that's a thing you can actually become in the game. We originally started out with just 25 costume elements or so, but now there are roughly 130 you can collect by defeating enemies and bosses throughout the game. So yeah, the more messes you make by splattering all who oppose you, the more elements you'll collect to try out in our patented Costume Select-O-Tron. After all, who wouldn't want to see what it's like to kill enemies in a video game with a keytar, a plush teddy bear, or a dolphin? (note: some costumes can also be found in hidden areas, so be on the lookout for 'em.)
As you play through each stage, you'll also encounter a variety of special power-ups to collect. Some of these will give you more health, some will make you invincible, and others might attach gargantuan circular saws to your body that take up the entire screen. Yep. It's just a typical day in the life of our Bionic Chainsaw Pogo Gorilla. Of course, not every item you collect is helpful. Some items are actually power-downs that can do all kinds of bad things to you, such as shrink you to down to a nearly microscopic scale or summon a giant rainbow razor blade breathing dragon. Ouch. That sounds painful. Other features in the game you'll want to know about include a combo-meter, achievement medals, special unlockable full costume sets that you do not want to miss, player stats, a stage select option, control customization, and much more.
I'm really proud of what we accomplished with BCPG, and I honestly can't think of any other game that plays quite like it. Considering this was by far the largest project he's ever worked on, Jacob did a phenomenal job programming it. There are virtually no major bugs in this thing, and for a game of this size, that's seriously impressive. Pox's artwork is beautiful and he really captured the spirit of what I wanted to see on all the stages and in the mutant creatures throughout the game. I honestly think it's his best artwork to date. As for myself, I had a blast designing the game, coming up with fun levels and memorable boss battles. Man, do I love those big boss battles... and I'm sure you will too. You're not gonna believe what we pulled off for the final boss of the game - I really can't wait for you to see it. I also hope you enjoy the music while you're playing through BCPG, because this is the most original music I've ever written for a game. It was a long process creating all the tunes, but I learned a lot along the way and I'm really happy with how the music turned out to match the atmosphere of each stage.
Huge thanks to Jacob and Pox for working on this massive project with me for so long - they did absolutely incredible work and this game wouldn't have been possible without them. I want to everybody at Adult Swim for giving us this awesome opportunity to spend over a year creating a completely original game, and for providing excellent feedback and support throughout the entire process. And lastly, I have to thank all of our families, friends, and Internet pals - without your encouragement during a huge undertaking like this, I doubt BCPG would've ever even seen the light of day. So yeah, thanks everyone!
Alright, I've blabbed long enough about the game... now it's your turn to PLAY IT. Please drop a comment below once you've had a chance to really play through the game as I'm excited to hear what you all think of it. Thanks for playing and I hope you enjoy it!


[click here for high quality video]
Our chums over at Adult Swim just put together this nifty trailer for our upcoming game, Bionic Chainsaw Pogo Gorilla. This is probably the first time most of you will get to see BCPG in action (unless you saw the very early build at the San Diego Comic-Con last year), so I hope you really like what you see. Considering how Jacob, Pox and myself have been working on it nonstop for over a year now, it's super exciting to know that the game is gonna be released for all to play in the very near future. Please drop a comment below and lemme know what you think o' the footage in the trailer so far!
« Older Entries Newer Entries »